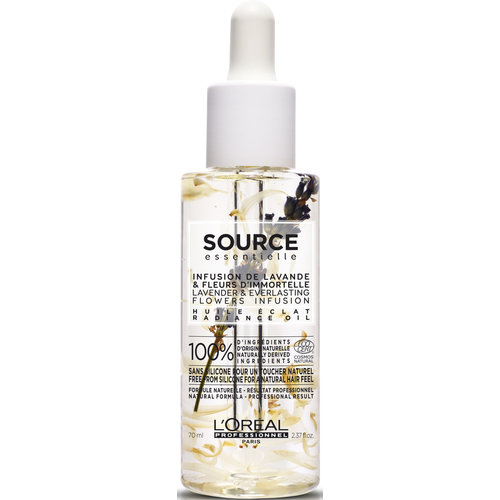 Source Essentielle Radiance Oil 75ml
L'Oreal Source Essentielle Radiance Oil is een haarolie die het gekleurde haar en het ongekleurde haar met highlights glans geeft en volledig beschermd.
L'Oreal Haarolie
L'Oreal is een merk bekend bij salons over de hele wereld. De L'Oreal Groep is van alle markten thuis op het gebied van haar en beauty. L'Oreal Professionnel is leider op het gebied van haarkleuringen en heeft dit uitgebreid met verschillende verzorgings- en stylinglijnen. Als het om verzorging gaat, vindt L'Oreal dat deze uniek hoort te zijn voor ieder haar type of haarprobleem, en hier zijn de producten dan ook op gebaseerd. Hieronder vallen de heerlijke L'Oreal Haarolie producten.
L'Oreal Haarolie
Haarolie is een aanvullend verzorgend product dat dagelijks gebruikt kan worden. L'Oreal Haarolie maakt het haar niet vet, maar zorgt ervoor dat het in topconditie is door toevoeging van de voedende elementen. Daarnaast staat haarolie aan de basis van styling aangezien het de haren mooi laat glanzen en verzacht. Deze dubbele werking, als verzorgend en stylingproduct, maakt haarolie geliefd. Haarolie kan op verschillende plaatsen in de haarroutine gebruik worden, afhankelijk van het doel van gebruik.
L'Oreal Haarolie Assortiment
Alle L'Oreal Haarolie is gemakkelijk in gebruik, na of voor het stylen. De producten verzwaren het haar niet en hebben allen een unieke beschermende werking. De volgende haaroliën van L'Oreal zijn te verkrijgen bij Kapperssolden:
L'Oreal Haarolie Mythic Oil
Mythic Oil is een luxe verzorgingslijn van L'Oreal. De lijn gaat uit van verschillende voedende oliën die de basis vormen van de rijke producten. Het boegbeeld van deze lijn is de Mythic Oil Original Oil, een intensief voedende olie voor stralend haar. De olie bevat onder andere avocado-olie en druivenpit-olie en is onwijs zuinig in gebruik.
Snelle levering en Klantenservice
Alle orders worden verstuurd vanuit ons logistiek magazijn in het midden van het land. Honderden pakketten verlaten dagelijks ons magazijn op weg naar een tevreden klant. Mochten er vragen zijn over een bepaald product, je wilt advies over bijvoorbeeld het verven van je haar, of je bent benieuwd wanneer je pakketje met L'Oreal producten precies wordt geleverd, dan staat onze klantenservice voor je klaar. Ook kunnen zij je meer vertellen over je favoriete producten en de werking ervan! Onze klantenservice is telefonisch te bereiken op +32 (0)3 304 82 77, of via [email protected].

Lees meer
Lees minder