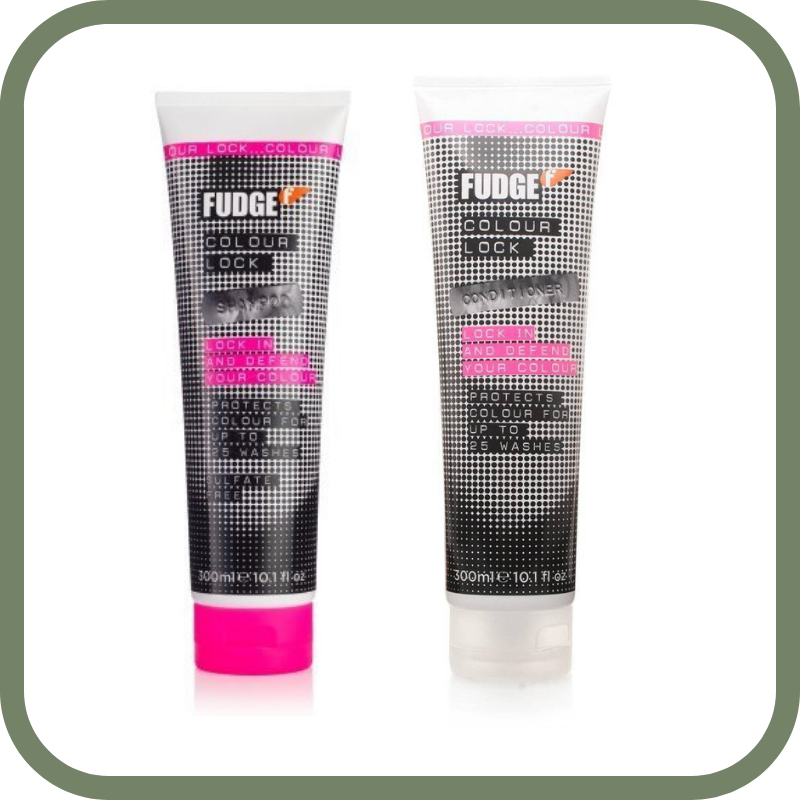 Fudge Colour Lock
Van mooi gekleurd haar wil je natuurlijk zo lang mogelijk genieten. Helaas komt kleur vervaging voor en gebeurt het vaak dat de mooie pigmenten en haarkleur al snel vervagen. Gelukkig zijn daar de producten van Fudge, met de Colour Lock shampoo en conditioner wordt kleur vervaging tegen gegaan. De haarkleur wordt als het ware vastgezet (locked) waardoor er langer van gekleurd haar kan worden genoten. Niet alleen de haarkleur wordt optimaal beschermt, ook beschermen de shampoo en conditioner het haar tegen vervuiling van buiten af zoals bijvoorbeeld zout en uv-straling.
Fudge Colour Lock Conditioner
De Fudge Colour Lock Conditioner zorgt voor een verlenging van de kleur intensiteit. De geverfde haarkleur blijft langer mooi. De Colour Lock Conditioner van Fudge beschermt tegen vervuiling van buitenaf zoals wind, zout, zon en rook zodat de kleur langer wordt behouden (door zonnebloemenextract puricare). Bovendien heeft de Fudge Colour Lock Conditioner een heerlijk frisse geur.
De Voordelen van Fudge Colour Lock Conditioner:
Het beschermt het haarpigment en versterkt en biedt een maximum aan glans. Daardoor beschadigt het haar minder snel en is minder statisch.
Zonnebloemextracten en anti-oxidanten beschermen het haar tegen beschadiging door hitte en chemische behandelingen.
Bovendien heeft het een heerlijke fruitige geur: een rijke combinatie met vanille als basis, en een lichte geur van appel en kaneel samen met peer.
Snelle levering en klantenservice
Alle orders worden verstuurd vanuit ons logistiek magazijn in het midden van het land. Honderden pakketten verlaten dagelijks ons magazijn op weg naar een tevreden klant. Mochten er vragen zijn over een bepaald product, wil je advies over bijvoorbeeld het verven van je haar of ben je benieuwd wanneer je pakketje precies wordt geleverd, dan staat onze klantenservice voor je klaar. Ook kunnen zij je meer vertellen over je favoriete producten en de werking ervan! Onze klantenservice is telefonisch te bereiken op +32 (0)3 304 82 77, of via [email protected].

Lees meer
Lees minder