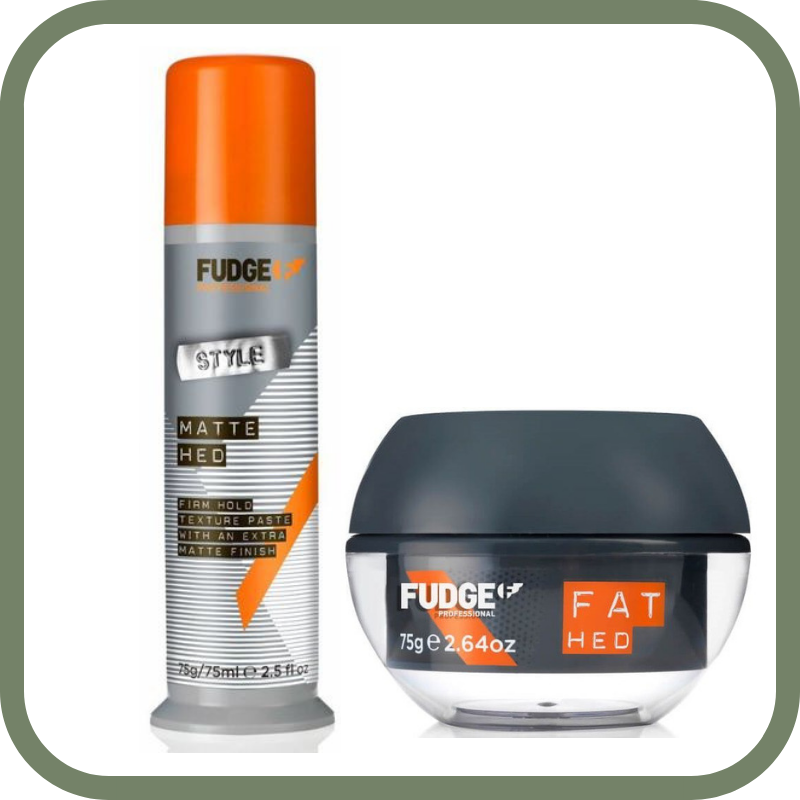 Fudge Paste
Fudge staat natuurlijk niet alleen bekend om de verzorgingsproducten. De styling producten mogen er ook wezen. In deze categorie vind je alle Fudge Paste's die dit veelzijdige merk te bieden heeft. De waarschijnlijk meest bekende en alom geroemde Paste van Fudge is de Fudge Fat Hed. 
Fudge Paste
Of je nou op zoek bent naar een Paste die je haar heel de dag in model houdt, of een mooie Paste voor de finishing touch. Fudge heeft het. De Paste van Fudge zijn:
Fudge Fat Hed
Fudge Fat Hed is een geweldige textuur versterkende paste met stevige fixatie. Deze heerlijke paste zorgt voor een stevig maar toch flexibel eindresultaat. Fudge Fat Hed verbetert de handelbaarheid, het volume en de conditie van het haar. Fudge Fat Hed is verrijkt met carnaubawas, tarweproteïne, plooibaar satijn en unieke polymeren. Deze ingrediënten zorgen voor een perfect eindresultaat met een prachtige glans. Fudge Fat Hed heeft een heerlijke fruitige rode bessen geur.
Fudge Matte Hed
Fudge Matte Hed is een geweldige, textuur versterkende, matte paste met een zeer stevige fixatie. Deze paste zorgt voor volume en structuur met een extra mat effect. Fudge Matte Hed is zeer gemakkelijk te doseren dankzij de handige pompverpakking. Matt Hed maakt het haar glad en handelbaar. Deze geweldige paste gaat uitdroging van het haar tegen en houdt het haar in natuurlijke conditie. Fudge Matte Hed bevat onder andere: microcrystallinewas, kaolineklei, lanoline. Fudge Matte Hed heeft een heerlijke frisse komkommer-/meloengeur.
Snelle levering en klantenservice
Alle orders worden verstuurd vanuit ons logistiek magazijn in het midden van het land. Honderden pakketten verlaten dagelijks ons magazijn op weg naar een tevreden klant. Mochten er vragen zijn over een bepaald product, wil je advies over bijvoorbeeld het verven van je haar of ben je benieuwd wanneer je pakketje precies wordt geleverd, dan staat onze klantenservice voor je klaar. Ook kunnen zij je meer vertellen over je favoriete producten en de werking ervan! Onze klantenservice is telefonisch te bereiken op +32 (0)3 304 82 77, of via [email protected].

Lees meer
Lees minder