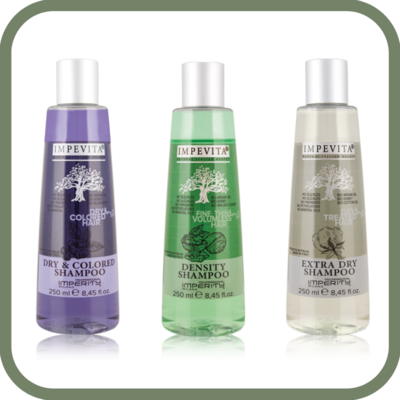 Imperity Impevita
Van alle professionele merken die wij op onze webshop mogen verkopen, zijn we het meest trots op ons eigen merk: Imperity Professional! Wat ooit begon als een klein onbekend dapper merk, is ondertussen uitgegroeid tot een groots professioneel haarverzorgingsmerk dat zich kan meten met de grote vijf! Imperity Professional
Imperity Impevita
Haar en huid hebben veel te verduren op een dag. Daarom is het zeer belangrijk dat deze uitermate goed verzorgd worden. Imperity heeft een productenlijn ontwikkeld die verzorging voor elk haartype bevat: Imperity Impevita. Deze lijn bestaat uit verschillende shampoo's en conditioners speciaal voor elk haartype. De Imperity Impevita lijn die is verrijkt met Argan olie, zorgt voor een beschermlaag van het haar tegen invloeden van buitenaf en bevordert de natuurlijke haargroei. De omega 3 en 9 vetzuren helpen het haar te herstellen en het haar sterker te maken door de haarwortel te voorzien van essentiële voedingsstoffen. Een aantal producten die wij willen uitlichten zijn:
Imperity Impevita Haarverf Ammoniak Vrij
Op zoek naar een haarverf die minder schadelijke stoffen bevat? Dan is de Imperity Impevita Haarverf Ammoniak Vrij precies dat wat je zoekt. Deze haarverf is vrij van ammoniak, ppd en resorcinol. De zachte haarkleurcrème garandeert tot 100% grijsdekking. De unieke samenstelling van vier verschillende bio-oliën, namelijk olijfolie, arganolie, zonnebloemolie en druivenpitolie, bieden het haar een natuurlijke verzorging, kleur en bescherming. 
Imperity Impevita Extra Dry Shampoo
Voor mensen die last hebben en droog tot zeer droog haar is er de Imperity Impevita Extra Dry Shampoo. Dankzij de biologische samenstelling van deze Shampoo en de speciale effecten van Argan olie, honing olie en katoen extract, wordt het haar weer heerlijk zijde zacht en krijgt het de verzorging die het verdient.
De biologische katoen olie is een bron van eiwitten en vetzuren die er aan bijdragen dat het haar perfect wordt verzorgt en het uitgeputte droge haar wordt hersteld.
Imperity Impevita Anti-Frizz Shampoo
Last van pluizig of kroezend haar? Dan heeft Imperiy Impevita de oplossing. Houdt het haar weer onder controle met de Imperity Impevita Anti Frizz Shampoos shampoo. Het haar wordt gehydrateerd en de hoofdhuid gekalmeerd. De biologische Argan en honing olie herstellen de beschadigde haarstructuur en laat het haar er weer mooi en stralend uitzien. Het calendula extract maakt het haar mooi glad, zodat pluizig haar en kroezend haar verleden tijd zijn.
Snelle levering en klantenservice
Alle orders worden verstuurd vanuit ons logistiek magazijn in het midden van het land. Honderden pakketten verlaten dagelijks ons magazijn op weg naar een tevreden klant. Mochten er vragen zijn over een bepaald product, wil je advies over bijvoorbeeld het verven van je haar of ben je benieuwd wanneer je pakketje precies wordt geleverd, dan staat onze klantenservice voor je klaar. Ook kunnen zij je meer vertellen over je favoriete producten en de werking ervan! Onze klantenservice is telefonisch te bereiken op +32 (0)3 304 82 77, of via [email protected].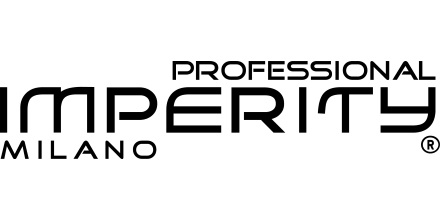 Lees meer
Lees minder