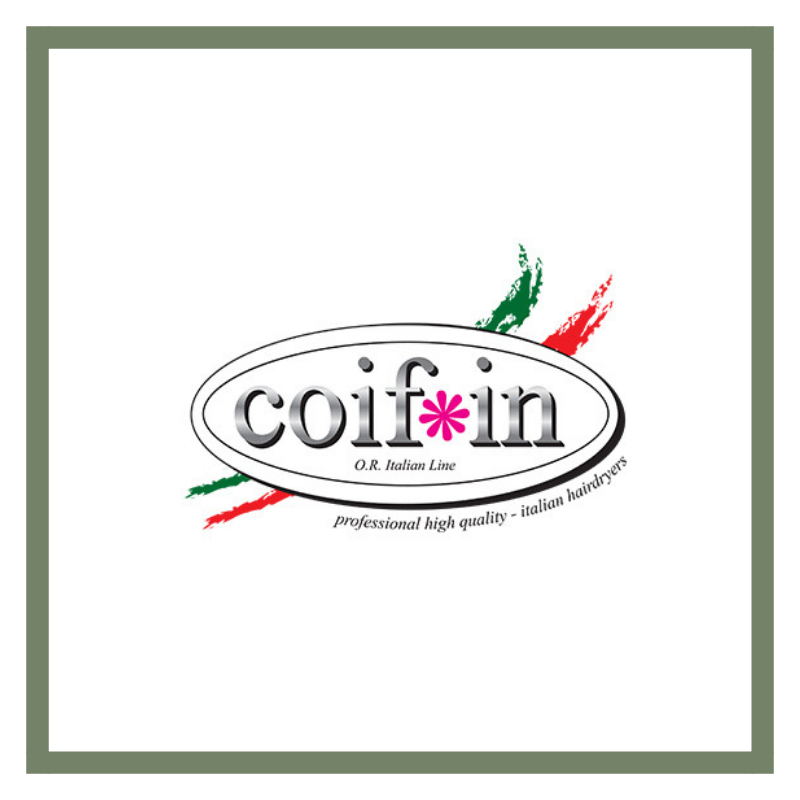 Coifin
Coifin, het professionele merk uit Italië op het gebied van föhns en haardrogers. Een föhn hoort natuurlijk net zo bij een kapperszaak of de kapper als een schaar. In het verleden kon een föhn nog wel eens zwaar aanvoelen of net iets te veel lawaai maken. Daarom besloten twee vrienden  uit de kapperswereld daar verandering in te brengen in 1993. Na wat wikken en wegen kwamen zij met een föhn op de markt met een innovatieve elektromotor die tot op vandaag de dag wordt door ontwikkeld. Stiller, krachtiger en efficiënter, daar gaat het bij Coifin om. De producten worden uitsluitend geproduceerd in Italië.
Coifin CL5 Kompressor Föhn
Op Kapperssolden.be verkopen wij de Coifin CL5 Kompressor Föhn. Dit is een geweldige föhn van Coifin. Deze Föhn heeft een cold shot, 6 blaassnelheden/temperatuurstanden en 2.6 meter snoer. De Coifin CL5 Kompressor Föhn weegt 535 gram en heeft een ergonomisch design. Coifin CL5 wordt geleverd met een extra blaasmond. De Föhn heeft meerdere standen waardoor elk type haar in de perfecte staat gedroogd kan worden.
Specificaties:
2 Blaasmonden
Cold shot.
6 blaassnelheden/temperatuurstanden
535 gram
verwijderbaar filter
1900-2100 Watt.
2.8 meter flexibel snoer. 
Coifin CL5 Kompressor Föhn kopen
De Coifin CL5 Kompressor Föhn is te vinden op hairandbeautyonline.com. Het product is eenvoudig en snel te bestellen in een veilige betaalomgeving. Wij hanteren de scherpste prijzen op onze site. Daarnaast is het uitgebreide assortiment van Föhns te vinden op onze website. Er is voor iedereen wel een passend product, van kleine reisföhns tot krachtige kappersföhns. Houdt onze website goed in de gaten voor kortingen zodat er optimaal gebruik kan worden gemaakt van de vele acties dei wij online hanteren.
Klantendienst
Mochten er vragen zijn over een bepaald product, je wilt advies over bijvoorbeeld het verven van je haar, of je bent benieuwd wanneer je pakketje precies wordt geleverd, dan staat onze klantenservice voor je klaar. Onze klantenservice is telefonisch te bereiken op +32 (0)3 304 82 77, of via [email protected].
Lees meer
Lees minder