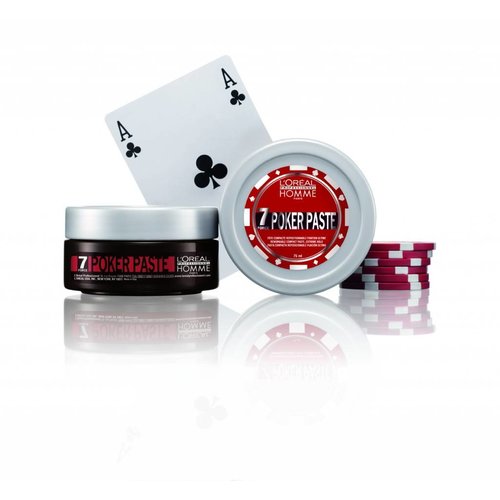 LP Homme Poker Paste
L'Oreal LP Homme Poker Paste, ultieme stylingpaste, de gehele dag restylen, de perfecte fixatie, blijft de hele dag in model.
L'Oreal Paste
L'Oreal is een merk bekend bij salons over de hele wereld. De L'Oreal Groep is van alle markten thuis op het gebied van haar en beauty. L'Oreal Professionnel is leider op het gebied van haarkleuringen en heeft dit uitgebreid met verschillende verzorgings- en stylinglijnen. Als het om styling gaat, vindt L'Oreal dat het voor iedereen beschikbaar moet zijn. Vergelijkbare producten voor verschillende haartypes zijn verkrijgbaar zodat iedereen kan genieten van de hoogwaardige stylingsproducten van L'Oreal. Hieronder vallen de fraaie L'Oreal Paste producten.
L'Oreal Paste
Haar styling paste hoort in hetzelfde rijtje thuis als wax, pommade en clay. L'Oreal Paste heeft een nattere structuur waardoor het makkelijk te verdelen is door het haar en niet indroogt zoals we gewend zijn van bijvoorbeeld een wax. Dit maakt dat een kapsel gemakkelijk te restylen is door de dag heen. Een paste geeft een natuurlijkere look dan veel andere stylingproducten, de stevigheidsfactor is dan ook iets minder dan bij een harde gel of clay.
L'Oreal Paste Tecni Art
De L'Oreal Paste producten afkomstig uit de Tecni Art lijn zijn geschikt voor man en vrouw. Alle pasta's in deze lijn zorgen voor een prachtige matte finish en een kapsel dat de gehele dag te restylen is. HairandBeautyonline verkoopt vier L'Oreal Tecni Art Paste producten:
L'Oreal Paste Homme
Behorende tot de mannen lijn van L'Oreal, Homme, zijn de Sculpte Paste en Poker Paste. Specifiek gericht en getest op en voor mannelijk haar. De Homme Sculpte Paste heeft een soepele finish met een natuurlijke glans en textuur. De Homme Poker Paste, een echte bestseller, heeft daarentegen een extreem sterke hold. Deze pasta is enorm powerful en houdt de haren lang in model met een matte finish.
Snelle levering en Klantenservice
Alle orders worden verstuurd vanuit ons logistiek magazijn in het midden van het land. Honderden pakketten verlaten dagelijks ons magazijn op weg naar een tevreden klant. Mochten er vragen zijn over een bepaald product, je wilt advies over bijvoorbeeld het verven van je haar, of je bent benieuwd wanneer je pakketje met L'Oreal producten precies wordt geleverd, dan staat onze klantenservice voor je klaar. Ook kunnen zij je meer vertellen over je favoriete producten en de werking ervan! Onze klantenservice is telefonisch te bereiken op +32 (0)3 304 82 77, of via [email protected].

Lees meer
Lees minder