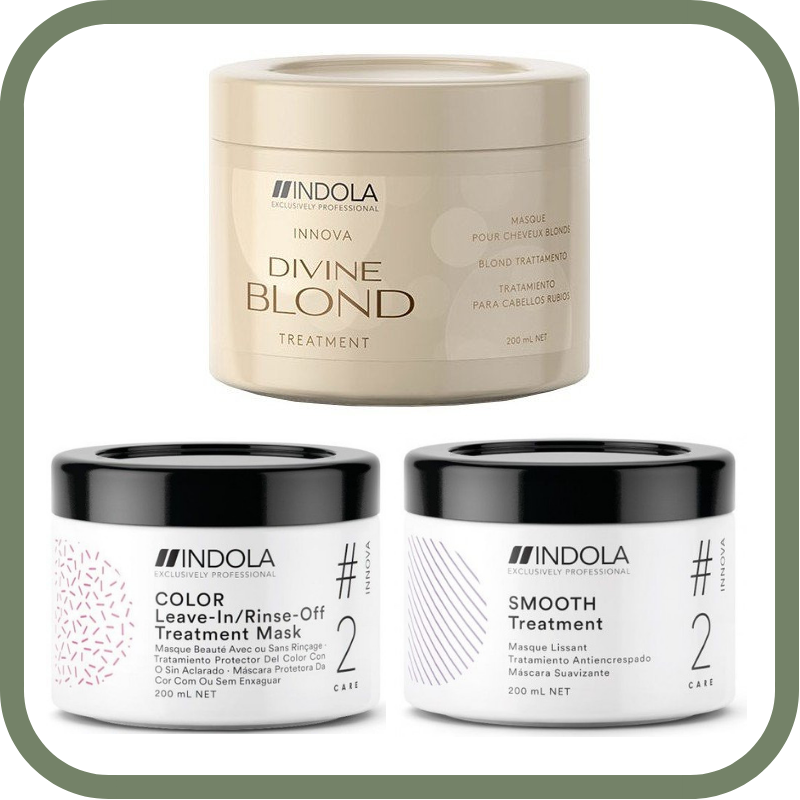 Indola Haarmasker
Indola, een professioneel kappersmerk, staat vol in het teken van inspiratie en innovatie. Het merk is enorm digitaal ingesteld en deelt graag tips over het gebruik van hun producten. In 2011 heeft Indola haar totale gamma van producten vernieuwd waarbij speciale aandacht was voor de verpakking, maar ook de samenstelling en eigenschappen van de producten. De toon van het merk was gezet en het is een nog belangrijkere speler op de markt geworden.
Indola Haarmasker
De Indola Haarmasker lijn bestaat uit verschillende producten die ieder een eigen werking hebben. De producten die wij graag willen uitlichten zijn:
Indola Innova Leave In Rinse Off Treatment Mask
Indola Color Leave In Rinse Off Treatment Mask zorgt voor een langdurig kleur resultaat. Herstelt het haar van binnenuit dankzij Zijde Cocon Proteïnen. De kleurpigmenten worden verzegeld, hierdoor wordt na zelfs 30 wasbeurten tot 90% van de kleurintensiteit behouden. 

De speciale formule met Pixel Technologie brengt het haar terug in de natuurlijke conditie met een glanzende, levendige kleur. Indola Color Leave In Rinse Off Treatment Mask kan gebruikt worden met en zonder uitspoelen.
Indola Innova Care Smooth Treatment
Indola Innova Care Smooth Treatment bevat een formule met Kokos Olie. Deze formule maakt de haarschubben glad voor een intensieve glans. Het beschermt het haar tegen pluis.

Dankzij de formule met Pixel technologie wordt het haar terug gebracht in de natuurlijke conditie en wordt het voorzien van een glanzende en levendige haarkleur.
Indola Innova Divine Blond Treatment
Indola Innova Divine Treatment is een haarmasker speciaal voor blond haar. Het blonde haar krijgt een sterkere blonde kleur, kracht en een stralende glans. De gele tinten in het haar worden geneutraliseerd. Het masker is verrijkt met Blond & Force Complex. Dit hydrateert de haarstructuur van binnenuit. Hierdoor wordt haarbreuk voorkomen. Het haar gaat er gezond en stralend uitzien.
Snelle levering en klantenservice
Alle orders worden verstuurd vanuit ons logistiek magazijn in het midden van het land. Honderden pakketten verlaten dagelijks ons magazijn op weg naar een tevreden klant. Mochten er vragen zijn over een bepaald product, wil je advies over bijvoorbeeld het verven van je haar of ben je benieuwd wanneer je pakketje precies wordt geleverd, dan staat onze klantenservice voor je klaar. Ook kunnen zij je meer vertellen over je favoriete producten en de werking ervan! Onze klantenservice is telefonisch te bereiken op +32 (0)3 304 82 77, of via [email protected].
Lees meer
Lees minder