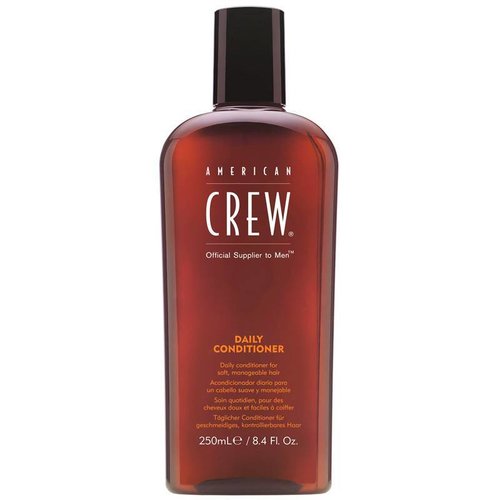 Daily Moisturizing Conditioner 250ml
American Crew Daily Moisturizing Conditioner verzacht en versterkt het haar.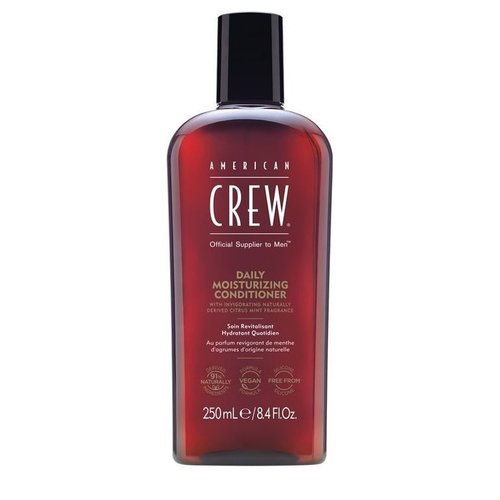 Daily Moisturizing Conditioner
American Crew Daily Moisturizing Conditioner verzacht en versterkt het haar.
American Crew Conditioner
American Crew is een merk dat is opgericht in 1994. Herenkapper David Racugglia produceerde toen als eerste een partij shampoo van dit merk. Het merk groeide vervolgens uit tot een merk dat enorm veel aandacht besteed aan het uiterlijk van de man, een man moet er immers goed uitzien. Naast het wassen van het haar is het belangrijk om het goed te verzorgen met andere producten. Een van deze producten is een conditioner. Het merk heeft verschillende conditioners op de markt gebracht die vallen onder de lijn: American Crew Conditioner.
3 in 1 conditioner
Het merk heeft verschillende 3 in 1 conditioners op de markt gebracht. Wij verkopen 1 van deze bijzondere shampoos op onze site.
American Crew 3 in 1 biedt een snelle oplossing voor een totale haar- en lichaamsverzorging. In deze 3 in 1 multifunctionele Shampoo, conditioner en body wash zit alles wat er voor lichamelijke verzorging nodig is, in slechts 1 product. Het product werkt uitstekend en zit boordevol fantastische ingrediënten zoals salie blaadjes en hop extracten, die het haar en lichaam extra voeding en hydratatie geeft voor zacht haar en een zachte huid. Het multifunctionele product reinigt de huid met een toegevoegd vleugje klassieke American Crew geur. Daarnaast wordt overtollige olie en vuil voorzichtig van het haar, de hoofdhuid en het lichaam verwijdert. Ook wordt het haar ultiem gehydrateerd.
Daily moisturizing conditioner
Naast de 3 in 1 conditioners is er nog een andere conditioner: American Crew Daily Moisturizing Conditioner. Deze conditioner is geschikt voor dagelijks gebruik. Het haar wordt ultiem gehydrateerd. Daarnaast werkt de conditioner ook nog eens kalmerend en stimulerend voor de hoofdhuid. Tijdens het gebruik van de conditioner kunt u genieten van een tintelend effect. De gezondheid van het haar wordt bevorderd met behulp van het product. Er is slechts een kleine hoeveelheid van het product nodig om het optimale resultaat te bereiken. Gebruik voor het optimale resultaat ook de Daily Moisturizing shampoo.  
American Crew Conditioner kopen
Deze producten zijn snel, veilig en eenvoudig online te bestellen. Natuurlijk tegen de scherpste prijzen. Reken af in een veilige betaalomgeving. Houdt onze webshop in de gaten voor de laatste aanbiedingen, acties en kortingscodes, zodat jij jouw favoriete American Crew product extra voordelig kunt bestellen.
Snelle levering en klantenservice
Alle orders worden verstuurd vanuit ons logistiek magazijn in het midden van het land. Honderden pakketten verlaten dagelijks ons magazijn op weg naar een tevreden klant. Mochten er vragen zijn over een bepaald product, wil je advies over bijvoorbeeld het verven van je haar of ben je benieuwd wanneer je pakketje precies wordt geleverd, dan staat onze klantenservice voor je klaar. Ook kunnen zij je meer vertellen over je favoriete producten en de werking ervan! Onze klantenservice is telefonisch te bereiken op +32 (0)3 304 82 77, of via [email protected].
Lees meer
Lees minder