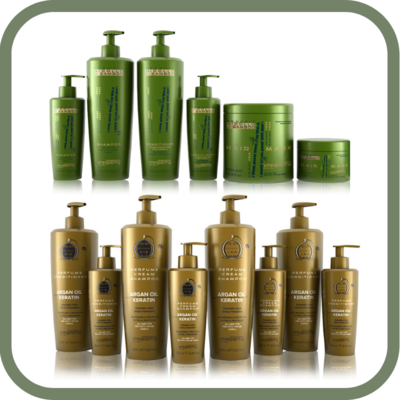 Imperity Haarverzorging
Imperity Professional is er zowel voor de professional als de consument. Wij willen dat iedereen zich een ware "Hare- Majesteit" voelt, en dat tegen een betaalbare prijs. Niet alleen is Imperity te vinden op onze webshop, ondertussen wordt het merk ook al in vele kapperszaken, en schoonheidssalons gebruikt en worden steeds meer mensen enthousiast over het merk.
Imperity Haarverzorging
Van alle professionele merken die wij op onze webshop mogen verkopen, zijn we het meeste trots op ons eigen merk Imperity Professional! Wat ooit begon als een klein onbekend dapper merk, is ondertussen uitgegroeid tot een groots professioneel haarverzorgingsmerk dat zich kan meten met de grote vijf! Een aantal verzorgende lijn van Imperity zijn:
Imperity Mi Dollo Di Bamboo
De Imperity Organic Mi Dollo Di Bamboo serie is verwerkt met bamboo extracten, deze extracten bevatten alle benodigdheden die het haar nodig heeft voor een optimale verzorging. De bamboo extracten versterken het haar en zorgen voor herstel van de vochtbalans. Door de intensieve hydratatie wordt de veerkracht en de elasticiteit van het haar hersteld. Het haar wordt sterk, glanzend, glad en vol beweging. De shampoo bevat een heerlijke subtiele geur.
Imperity Gourmet Jad/Vie
Imperity Gourmet Jad/Vie is een productenlijn die zorgt voor de ultieme verzorging van het haar. De lijn is verrijkt met de heerlijke geur van J'adore of la vie est belle, de must voor elke vrouw. Ook bevatten de producten arganolie en vitamine E. Deze ingrediënten zorgen voor een beschermlaag op het haar tegen invloeden van buitenaf. Daarnaast wordt de natuurlijke haargroei gestimuleerd. Ook biedt arganolie bescherming tegen hitte bij gebruik van een stijltang of föhn en maakt het uw haar zijdezacht en glanzend. De Omega 3 en 9 vetzuren, die zich ook in de producten bevinden, helpen het haar te herstellen en het haar sterker te maken door de haarwortel te voorzien van essentiële voedingsstoffen. Ook worden gespleten haarpunten hersteld en voorkomen.
Imperity Milano
De Imperity Milano lijn is te gebruiken voor droog en gekleurd haar. Doordat de Imperity Milano serie is verwerkt met keratine, tarwe-eiwit en pro-vitamine B5 zijn deze producten zeer geschikt om droog haar te herstellen. Deze ingrediënten zorgen er voor dat het haar glanzend, gezond en gemakkelijk doorkam baar wordt. Het tarwe-eiwit bestanddeel zorgt ervoor dat het haar van binnenuit intens wordt gevoed en verzorgd. Daarnaast wordt de vochtbalans van het haar hersteld. Dit resulteert in gezond, glanzend en heerlijk zacht haar. De Imperity Milano serie is te herkennen aan het goudkleurige uiterlijk en is verrijkt met een heerlijke geur.
Imperity Superior Luxury
De Imperity Superior Luxury lijn is te gebruiken voor elk haartype. Elk product uit de Imperity Superior Luxury lijn heeft 15 verschillend functies. Hierdoor is er dus voor elk type haar een geschikte functie. De producten zorgen voor ultieme hydratatie van het haar. De speciale, luxe formule met theeboomolie, organische arganolie, zijdeproteïne en panthenol zorgt voor de complete verzorging van het haar. Dankzij de combinatie van vitamines en plantaardige oliën wordt de haarstructuur van het haar verrijkt. Theeboom olie is een natuurlijke, zuivere, etherische olie, gewonnen uit de Australische theeboom (tea tree). Deze olie heeft een bijzonder breed toepassingsgebied Het ondersteunt zowel de weerstand als het herstellend vermogen van de huid. De Imperity Superior Luxury lijn is te herkennen aan de rode met goud kleurige flessen. En heeft een zeer aangename geur.
Snelle levering en klantenservice
Alle orders worden verstuurd vanuit ons logistiek magazijn in het midden van het land. Honderden pakketten verlaten dagelijks ons magazijn op weg naar een tevreden klant. Mochten er vragen zijn over een bepaald product, wil je advies over bijvoorbeeld het verven van je haar of ben je benieuwd wanneer je pakketje precies wordt geleverd, dan staat onze klantenservice voor je klaar. Ook kunnen zij je meer vertellen over je favoriete producten en de werking ervan! Onze klantenservice is telefonisch te bereiken op +32 (0)3 304 82 77, of via [email protected].
Lees meer
Lees minder