Sale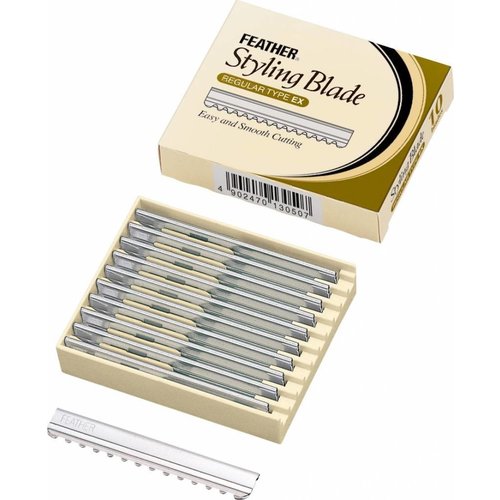 Losse mesjes
Feather styling, meest gebruikte mesjes en meshouders ter wereld, superieur in kwaliteit. 10 stuks verpakking en 5 x 10 stuks verpakking.
Sale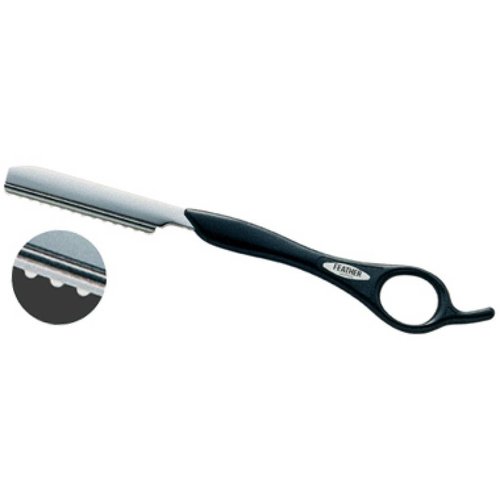 Styling Razor
Feather Styling Razor is één van de beste effileermessen voor de echte professional. Dit mes is van top kwaliteit en is ideaal voor het snijden van het haar.
Sale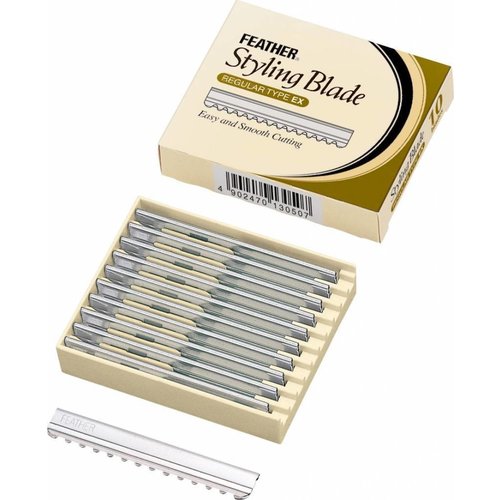 Mes 5 x 10 Stuks
Feather mesjes zijn verkrijgbaar in een verpakking met 5 pakjes van 10 stuks.
FEATHER
Feather produceert al jaren lang zeer scherpe messen van chirurgische precisie. In 1932 startte het bedrijf onder de naam Seki Safety Razor. In 1953 veranderde het bedrijf zijn naam in Feather. Het was het eerste Japanse bedrijf dat vervangbare mesjes produceerde.
De producten van Feather zijn het resultaat van jarenlange ervaring in combinatie met de modernste technieken. Er wordt alleen gebruik gemaakt van hoogstaande kwaliteit. De scherpe messen worden geproduceerd in Japan op uiterst deskundige wijze. Al jarenlang is Feather marktleider in kappersmessen van topkwaliteit. Over de gehele wereld wordt het merk geroemd om zijn enorme precisie en kwaliteit.
Chirurgische precisie
Het bedrijf produceert ook chirurgische messen voor de medische wereld. Dat bevestigt hoe precies en hoe goed de techniek is van Feather. Zij beschikken over uitzonderlijke deskundigheid en de juiste machines om hun messen vlijmscherp te maken. De Feather scheermessen voldoen aan dezelfde eisen als deze chirurgische messen en zijn daardoor geliefd bij kappers over de hele wereld. Kwaliteit staat voorop bij Feather en het bedrijf blijft zijn messen innoveren.
Feather Styling Razor
De Feather Styling Razor is ontworpen voor het vormgeven van het haar. De roestvrijstalen platina geharde messen zijn vlijmscherp en zorgen voor de controle die u nodig heeft om uw creativiteit toe te passen. Het effileermes biedt ook uitstekende weerstand tegen hitte en chemicaliën. De stevige ergonomische houder gaat jaren mee door het duurzame ontwerp. Losse mesjes zijn uiteraard verkrijgbaar bij Kapperssolden. Veiligheid wordt gegarandeerd dankzij de gepatenteerde beschermkappen op alle snijbladen. De Feather Styling Razor is te verkrijgen in verschillende kleuren. 
Klantendienst
Op Kapperssolden.be bieden wij een groot gamma professionele haarproducten aan, tegen de beste promoties! Alle orders worden verstuurd vanuit ons logistiek magazijn in het midden van het land. Honderden pakketten verlaten dagelijks ons magazijn op weg naar een tevreden klant. Voor vragen over producten of leveringen, contacteer gerust onze klantendienst. Wij zijn te bereiken op 03 304 82 77 of via [email protected]. Wij zijn ook te vinden via Facebook of Instagram.
Lees meer
Lees minder