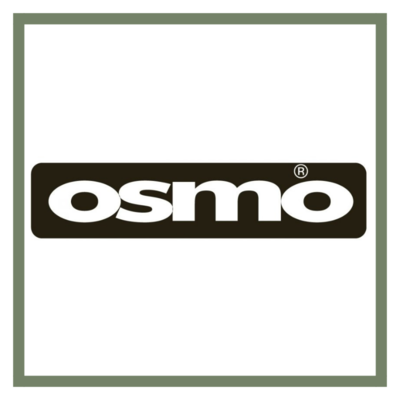 Osmo
Osmo is begonnen als een klein haar verzorgingsmerk in Groot Brittannië. Na jaren is Osmo uitgegroeid tot een wereldwijd gerespecteerd haar verzorgingsmerk. Osmo is momenteel verkrijgbaar in ruim 30 landen! Het merk staat voor het geven van kracht, of dat nou kracht is om de dag te beginnen, of om de juiste haarstijl te ontdekken.

In het jaar 2000 lanceerde Osmo een revolutionair nieuw product genaamd Aqua Wax. Van deze veelzijdige wax zijn er twee verschillende varianten; de Aqua Wax Hard en de Aqua Wax. Mede door deze producten is het bedrijf niet meer weg te denken op de huidige haar producten markt.
Osmo assortiment 
Vandaag de dag heeft Osmo een zeer uitgebreid assortiment, bestaande uit meer dan 50 verschillende haarproducten. Osmo heeft voor ieder wat wils, voor mannen en voor vrouwen! Het merk volgt geen trends, maar zet ze. Het bedrijf is constant bezig met het creëren van nieuwe producten en bovendien schenkt Osmo veel aandacht aan de verbetering van hun oude producten. Het merk begrijpt dat sommige producten oud maar vertrouwd zijn en staan hier ook achter. Zowel op het gebied van verzorging als styling.
De producten van het merk stralen van top tot teen. De verpakking ziet er goed uit, het product ruikt heerlijk en, het allerbelangrijkste, het werkt ook nog eens uitstekend. Met de producten van Osmo wordt in een handomdraai de gewenste haarstijl gecreëerd.
Osmo Styling
Onder styling verstaat het merk niet alleen wax, maar ook een hele groep aan andere producten. Denk aan finishing producten, zoals de Blinding Shine Illuminating Finisher, of aan de Osmo Thermal Defense. Vloeistoffen, sprays, poeders, Osmo is in alle markten thuis.
Een bijzonder product in de styling lijn van Osmo is de Effects Wonder Spray. Deze speciale spray bevat 10 wonderen op het gebied van verzorging en styling. 1 product voor 10 werkingen dus!
Osmo Wax
Het brede assortiment van het merk betekent dat er veel verschillende soorten Wax in de lijn zijn opgenomen. Niet alleen de welbekende Aqua Wax, maar ook Paste, Pomade, Clay, noem het maar op. Voor kroeshaar bijvoorbeeld heeft Osmo de Matte Clay Extreme, welke meer textuur met een sterke hold biedt.
Osmo Berber Oil
De verzorgende Berber Oil lijn van het merk bevat producten voor alle haarsoorten. Het belangrijkste ingrediënt is argan olie. Deze olie behoudt en herstelt de vochtbalans van het haar. De lijn bestaat uit een heerlijke shampoo, een masker, een glans spray, en een treatment. De Essence Berber Oil Hair Treatment is een mooie start bij beschadigd, droog haar. Naast argan olie bevat deze treatment de voedende vitamine E.
Klantendienst
Op Kapperssolden.be bieden wij een groot gamma professionele haarproducten aan, tegen de beste promoties! Alle orders worden verstuurd vanuit ons logistiek magazijn in het midden van het land. Honderden pakketten verlaten dagelijks ons magazijn op weg naar een tevreden klant. Voor vragen over producten of leveringen, contacteer gerust onze klantendienst. Wij zijn te bereiken op 03 304 82 77 of via [email protected]. Wij zijn ook te vinden via Facebook of Instagram.
Lees meer
Lees minder