Sale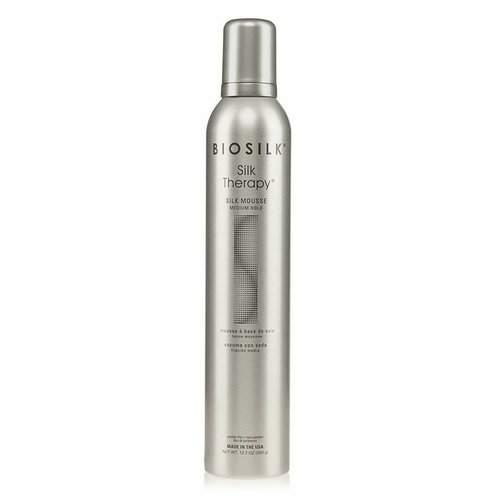 Silk Therapy Mousse Medium Hold 360gr
Biosilk Silk Therapy Mousse Medium Hold is een cremeachtige mousse met een medium holdfactor. Deze mousse geeft een lichte ondersteuning met veel volume.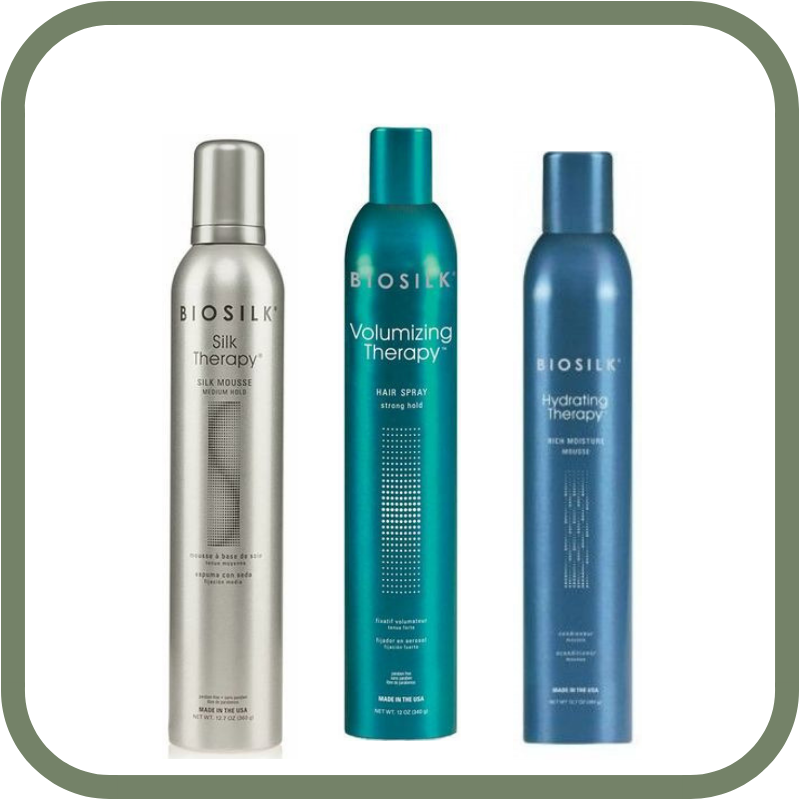 Biosilk Mousse
Door de zeer lichte structuur en gemiddelde holdfactor is Biosilk Silk Mousse de ideale combinatie om maximaal volume te creëren.
De zijdeproteïne zorgen bovendien voor zijdezacht haar een een stralende glans!
Natuurlijke zijde en proteïne zorgen voor een glanzende en gezonde uitstraling en zit verwerkt in het haarverzorgingsmerk Biosilk. Biosilk beschermt je haar tegen hitte, kou en vochtigheid. Biosilk heeft gebruik gemaakt van jarenlange ervaring waarbij gebruik wordt gemaakt van pure zijde om het haar optimaal te verzorgen.
De zijde die verwerkt zit in alle Biosilk producten bevat 17 van de 19 aminozuren in het haar die een sterke gelijkenis vertonen. Deze herstellen beschadigde gedeelten in het haar en creëren een gladde schubbenlaag. Daarbij wordt het haar door de zijde versterkt en voorkomt het dagelijkse beschadiging van styling tools. Daarnaast revitaliseren de aminozuren het haar en zorgen ze voor een zacht, soepel en glanzend resultaat.
Biosilk Mousse
Biosilk heeft voor veel verschillende haartypes een groot assortiment aan Styling producten. De Biosilk Styling producten zijn er in verschillende soorten, zo zijn er spray's, olie, gel en serums. Zo is er voor ieder een passend product. De Biosilk mousse is er in 3 verschillende varianten.
Biosilk Silk Therapy Mousse Medium Hold
Biosilk Silk Therapy Mousse Medium Hold is een creme achtige mousse met een medium holdfactor. Deze mousse geeft een lichte ondersteuning met veel volume. Hierdoor blijft het haar de hele dag in model. De mousse bevat zijdeproteïne, dit zorgt voor zijdezacht haar met een schitterende glans. Geschikt voor elk haartype.
Biosilk Hydrating Therapy Rich Moisture Mousse
Deze stylings mousse heeft het haar ultieme hydratie en een lichte versteviging. Dankzij de speciale formule van de Biosilk Hydrating Mousse krijgt het haar bovendien de perfecte glans. De speciale formule die dit product zo uniek maakt, bestaat onder andere uit maracuja olie en zijde. De Rich Moisture Mousse is geheel vrij van parabenen en sulfaten en bovendien niet op dieren getest.
Snelle levering en klantenservice
Alle orders worden verstuurd vanuit ons logistiek magazijn in het midden van het land. Honderden pakketten verlaten dagelijks ons magazijn op weg naar een tevreden klant. Mochten er vragen zijn over een bepaald product, wil je advies over bijvoorbeeld het verven van je haar of ben je benieuwd wanneer je pakketje precies wordt geleverd, dan staat onze klantenservice voor je klaar. Ook kunnen zij je meer vertellen over je favoriete producten en de werking ervan! Onze klantenservice is telefonisch te bereiken op +32 (0)3 304 82 77, of via [email protected].

Lees meer
Lees minder