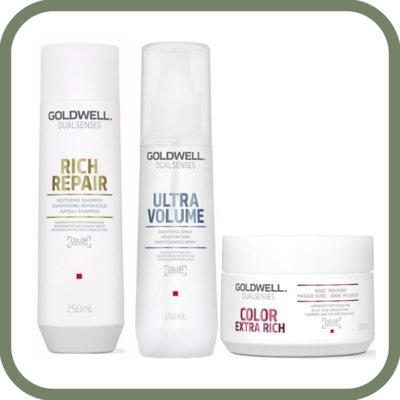 Goldwell Dualsenses
Goldwell Dualsenses is een complete verzorgingslijn met producten voor alle haartypes. Van Goldwell Shampoos, Goldwell Conditioners, Goldwell Maskers tot aan Goldwell Serums. Dualsenses staat onder andere bekend om haar direct zichtbare en voelbare resultaten. De vernieuwde Dualsenses lijn beschikt over verbeterde technologieën en geïntegreerde kleurbescherming met moderne geuren.
MicroPROtec Complex en luminescine
Goldwell Dualsenses producten bevatten allen het innovatieve MicroPROtec Complex. Deze technologie verdeelt essentiële, verzorgende ingrediënten snel en gelijkmatig voor directe resultaten.
Daarnaast is FadeStopFormula toegevoegd aan alle shampoos binnen de Dualsenses lijn met uitzondering van Scalp Specialists Shampoo. Deze technologie zorgt voor uitzonderlijk minder kleurverlies tijdens het wassen van het haar. De vernieuwde luminescine technologie verandert onzichtbaar UV-licht in zichtbaar licht, wat zorgt voor prachtige resultaten. Met Luminescine verfraai en verzorg je de kleurresultaten.

MicroPROtec complex + FadeStopFormula + Luminescine = Fantastische kleurbriljantie
Goldwell Dualsenses productlijnen
Klantendienst
Op Kapperssolden.be bieden wij een groot gamma professionele haarproducten aan, tegen de beste promoties! Alle orders worden verstuurd vanuit ons logistiek magazijn in het midden van het land. Honderden pakketten verlaten dagelijks ons magazijn op weg naar een tevreden klant. Voor vragen over producten of leveringen, contacteer gerust onze klantendienst. Wij zijn te bereiken op 03 304 82 77 of via [email protected]. Wij zijn ook te vinden via Facebook of Instagram.
Lees meer
Lees minder