Sale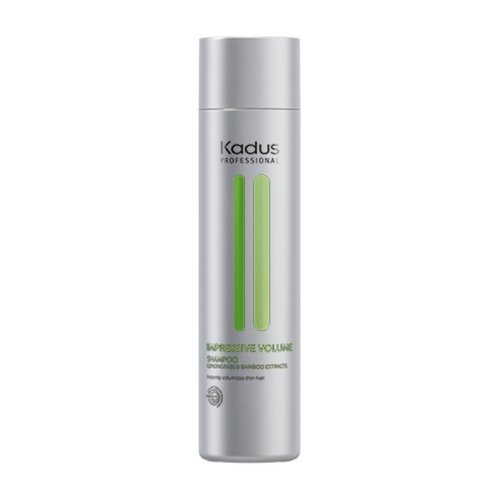 Impressive Volume Shampoo
Kadus Impressive Volume Shampoo is een shampoo voor dun en fijn haar.
Kadus Impressive Volume
Het merk Kadus is ontstaan toen een Duitse kapper, genaamd Ludwig Kegel, een kapsalon opende in een Duits dorpje en toen in 1919 een apparaat op de markt bracht met de naam Kadus. Door de jaren heen is het assortiment van het merk steeds uitgebreider geworden en in het jaar 1974 is het merk onderdeel geworden van Wella. Het merk bleef groeien en is tot op de dag van vandaag een zeer geliefd merk. Het kenmerk van de Kadus producten is dat ze goede kwaliteit bieden voor een betaalbare prijs. Er zijn veel verschillende productenlijnen van het merk op de markt gebracht. Zo is er bijvoorbeeld de Color Radiance die bescherming biedt aan gekleurd haar. Maar ook de Deep Moisture lijn die droog haar behandelt. Daarnaast is er de Kadus Impressive Volume lijn. Deze lijn bestaat uit een shampoo die geschikt is voor dun en fijn haar.
Kadus Impressive Volume Shampoo
De Impressive Volume Shampoo is een shampoo die geschikt is voor dun en fijn haar. De shampoo zorgt voor extra volume van het haar. Daarnaast geeft de shampoo het haar een voller uiterlijk. Het product heeft een heerlijke frisse geur. De shampoo biedt meteen resultaat na het gebruiken. Het haar ziet er meteen zichtbaar voller uit. Het product samengevat:
Shampoo voor dun en fijn haar
Frisse geur
Zorgt voor een voller uiterlijk
Snel zichtbaar resultaat
Kadus Producten
De producten van Kadus zijn professioneel en luxueus, maar vooral betaalbaar. Het merk is uitgegroeid tot een merk met vele producten. Zowel styling als verzorging. Elk verzorgingsproduct is gemaakt voor een bepaald haartype. Wilt u bijvoorbeeld uw haar beschermen tegen de zon? Gebruik dan Sun Spark. Wilt u uw grijze haar beschermen tegen ongewenste gele tinten? Gebruik dan een product uit de Color Revive lijn. Heeft u prachtige krullen en wilt u deze nog beter laten uitkomen? Daarvoor is de Curl Definer lijn geschikt. Zo heeft Kadus voor iedereen een bijpassend product. We believe in beautiful hair, dat is het motto van Kadus. Dat is zeker ook terug te zien in de producten.
Klantendienst
Op Kapperssolden.be bieden wij een groot gamma professionele haarproducten aan, tegen de beste promoties! Alle orders worden verstuurd vanuit ons logistiek magazijn in het midden van het land. Honderden pakketten verlaten dagelijks ons magazijn op weg naar een tevreden klant. Voor vragen over producten of leveringen, contacteer gerust onze klantendienst. Wij zijn te bereiken op 03 304 82 77 of via [email protected]. Wij zijn ook te vinden via Facebook of Instagram. 
Lees meer
Lees minder