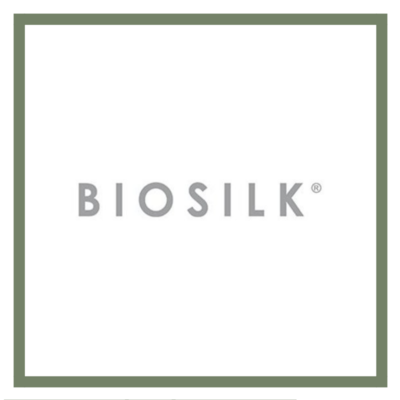 Biosilk
Biosilk wordt wereldwijd geroemd en geprezen om zijn verzorgende werking. Dankzij de unieke formule van Biosilk producten krijgt het haar weer een schitterende gezonde uitstraling. Het merk is vooral bekend door het meest bekende, en meest gebruikte product: de Biosilk Silk Therapy. Dit product is een serum verrijkt met zijde. Dit serum zorgt niet alleen voor optimaal herstel, maar geeft het haar ook een schitterende glans mee. De kracht van zijde zorgt er tevens voor dat het haar een optimaal vochtbalans ontwikkeld waardoor er net dat kleine beetje meer aandacht voor het haar ontstaat.
De Kracht van Zijde
BioSilk heeft de kracht van zijde en proteïne gebundeld, wat resulteert in zijde zacht en soepel glanzend haar. De producten bieden bescherming tegen beschadigingen door vochtigverlies, UV-straling, temperatuur, apparatuur en styling. Alle producten van BioSilk zijn ammoniakvrij. BioSilk heeft een ruim assortiment voor ieder wat wils.
De redenen waarom het merk zo populair is, er waarom professionals vol lof over Biosilk zijn, heeft te maken met enkele aandachtspunten die ervoor zorgen dat het haar de meest perfecte en optimale verzorging kracht.

Er is gekozen om zijde te verwerken in alle producten van BioSilk vanwege de volgende punten:


Kracht: Zijde is een zeer krachtige vezel, vergelijkbaar met staal, wat het haar van binnenuit herstelt en verstevigt.


Hydratatie: Zijde kan 3 maal haar eigen gewicht in vocht opnemen. Dit zorgt voor Hydratatie van het haar en elasticiteit. Het haar blijft beter in model en houdt de kleur langer vast.


Glans: Zijde glans van zichzelf natuurlijk en dit heeft een glansrijke uitwerking op het haar.


Bescherming: De zijde beschermt het haar tegen invloeden van buitenaf.


Klantendienst
Op Kapperssolden.be bieden wij een groot gamma professionele haarproducten aan, tegen de beste promoties! Voor vragen over producten of leveringen, contacteer gerust onze klantendienst. Deze is te bereiken op 0031 33 258 43 43 of via customercare@shops4youonline.com.
Lees meer
Lees minder