Sale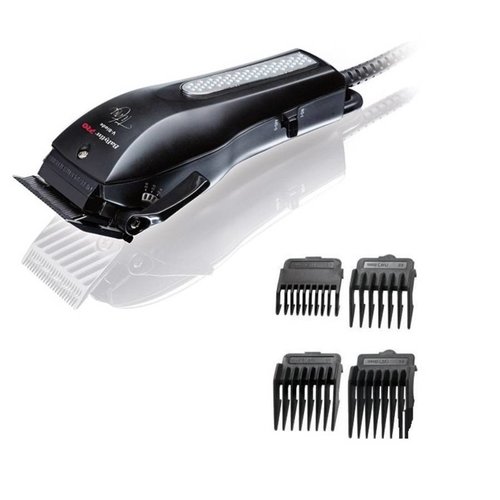 V-Blade Titan Tondeuse
Opzoek naar een voordelige Babyliss V-Blade titan tondeuse? Kijk dan snel bij HairandBeautyOnline! Babyliss V-Blade titan en veel meer aanbiedingen!
Babyliss Pro Tondeuses
Het merk Babyliss Pro is bekend geworden in Europa in het jaar 1995. In dit jaar is het bedrijf gefuseerd met een Amerikaans bedrijf. Hieruit is een groot internationaal bedrijf ontstaan. Jaarlijks worden er wereldwijd 30 miljoen elektrische apparaten en 500 miljoen haaraccessoires verkocht. Dit maakt het merk tot een wereldwijde marktleider in haar verzorgende apparaten. Het merk heeft ontzettend veel verschillende producten op de markt gebracht. Een onderdeel hiervan zijn de Babyliss Pro Tondeuses. Deze productenlijn bestaat uit verschillende tondeuses die elk specifieke eigenschappen hebben. Zo is er een geschikt product voor ieder persoon. Naast tondeuses verkoopt het merk andere elektrische apparaten zoals föhns, stijltangen en krultangen.
Verschillende soorten Tondeuses
Op onze site verkopen wij verschillende soorten tondeuses. De tondeuses verschillen van elkaar. De een heeft meerdere snijlengtes en de ander heeft er maar een. De tondeuses liggen gemakkelijk in de hand en zorgen voor een geweldig kapsel. Ook gaan de producten lang mee door de oplaadbare accu. Daarnaast bevatten veel van de tondeuses een schoonmaakborstel en olie om het product schoon te maken en het zo lang mogelijk in de optimale conditie te houden. Een tondeuse is bijvoorbeeld:
Babyliss Pro tondeuses Accessoires
Er gaan verschillende producten gepaard met de tondeuses. Zo zijn er verschillende opzetkammen voor sommige tondeuses. De verschillende snijlengtes (in mm) variëren van 0.8 tot en met 3.2. Deze snijlengtes zorgen voor verschillende kapsels. Naast de verschillende opzetstukken bestaat er ook een schoonmaakspray voor de tondeuses: de BaByliss Pro FX040290 4-in-1 Cleaning Spray. Dit product is een geweldige, verkoelende, reinigende en zuiverende spray van BaByliss Pro. Deze spray zorgt ervoor dat de tondeuse langer mee gaat. Het product bevat een antibacteriële pharma olie.
Snelle levering en klantenservice
Alle orders worden verstuurd vanuit ons logistiek magazijn in het midden van het land. Honderden pakketten verlaten dagelijks ons magazijn op weg naar een tevreden klant. Mochten er vragen zijn over een bepaald product, wil je advies over bijvoorbeeld het verven van je haar of ben je benieuwd wanneer je pakketje precies wordt geleverd, dan staat onze klantenservice voor je klaar. Ook kunnen zij je meer vertellen over je favoriete producten en de werking ervan! Onze klantenservice is telefonisch te bereiken op +32 (0)3 304 82 77, of via [email protected].
Lees meer
Lees minder