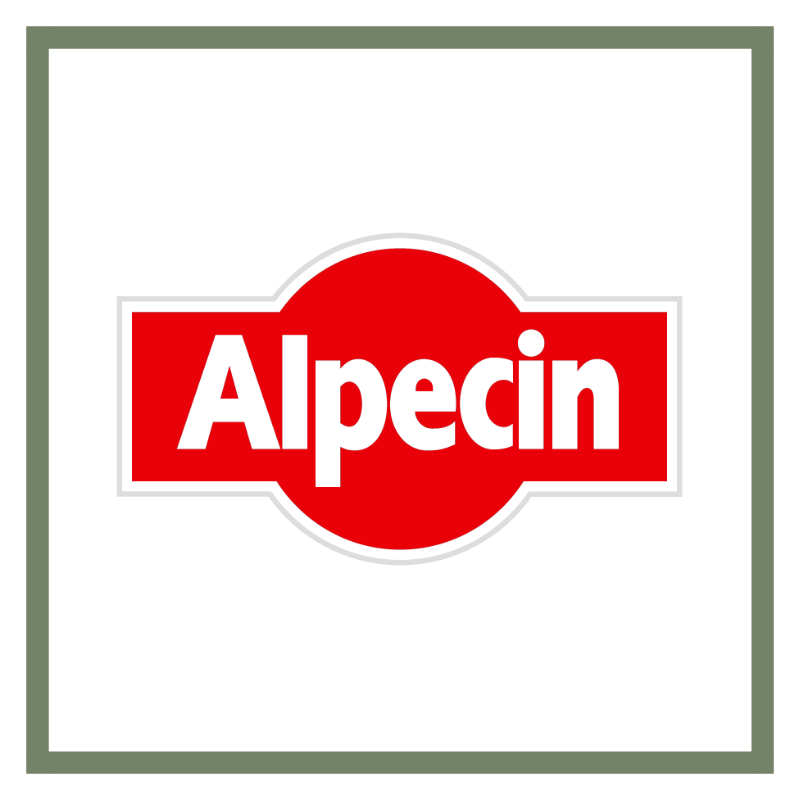 Alpecin
Alpecin is hét shampoo merk voor mannen. Deze producten gaan mannelijke kaalheid en haaruitval tegen. Dankzij het werkzame complex van cafeine, zink en niacine wordt de productiviteit van de haarwortels verhoogd. De producten zijn in diverse varianten verkrijgbaar zonder recept. Het haar gaat sneller groeien en haaruitval wordt voorkomen.
Alpecin en erfelijk bepaalde haaruitval
Alpecin gaat vroegtijdig, erfelijk bepaalde haaruitval tegen. Erfelijk bepaalde haaruitval wordt veroorzaakt door het hormoon dihydrotestosteron, oftwel DHT. Deze stof is afgeleid van het geslachtshormoon testosteron. Bij sommige mannen reageren de haarzakjes overgevoelig op het DHT hormoon. Hierdoor worden de haarzakjes langzaam verschrompeld met als vervolg dat het haar gaat uitvallen en kale plekken zichtbaar worden.
Het gebruik van Alpecin
Het gebruik van Alpecin is zeer gemakkelijk. De shampoos zijn geschikt voor dagelijks gebruik. Er is ook een speciaal ontwikkelde shampoo voor grijs haar. Gebruik een kleine hoeveelheid en masseer vervolgens goed over het haar. Laat de shampoo ongeveer 3 minuten intrekken. Spoel de shampoo daarna grondig uit. De lotion dient na het wassen aangebracht te worden op handdoek droog haar. Masseer de vloeistof in de hoofdhuid. Spoel de lotion niet uit. Na het aanbrengen kan het haar gestyled worden zoals gewenst. De producten dienen blijvend gebruikt te worden voor het beste resultaat.
Gebruik een kleine hoeveelheid
Masseer goed in
Laat 3 minuten inwerken
Spoel grondig uit
Alpecin en bijwerkingen
In principe kunnen alle producten van Alpecin zonder bijwerkingen gebruikt worden. Echter kunnen de werkzame stoffen in de shampoos een gevoelige hoofdhuid irriteren. Je kan dan last krijgen van jeuk of rode plekken. Wij raden aan om contact op te nemen met een arts bij blijvend last van bijwerkingen.
Cafeïne complex in Alpecin
Het cafeïne complex in de Alpecin producten bevat een werkzame formule van cafeïne, vitamine A, zink en niacine. Deze bestandsdelen dringen diep door via de haarschacht in de haarwortel om zo het probleem doeltreffend aan te pakken. Zichtbaar resultaat al na 120 seconde! Het speciale complex helpt zelfs om erfelijk bepaalde haaruitval te voorkomen. Dankzij de milde werking zijn de shampoos geschikt voor dagelijks gebruik.
Ondanks dat koffie ook cafeïne bevat helpt het drinken van koffie niet bij het bevorderen van de haargroei. Dit komt omdat koffie oraal wordt ingenomen. Hierdoor gaat het eerst door de spijsvertering en wordt het later pas opgenomen. Vervolgens wordt de koffie door het hele lichaam verdeeld en komt er slechts een hele kleine hoeveelheid in de hoofdhuid en in de haarwortels terecht. Zelfs het drinken van 50 koppen koffie is nog niet voldoende om de hoeveelheid cafeïne naar de haarwortels te brengen wat in de shampoo zit.
Alpecin en roos
Alpecin helpt niet alleen bij het verbeteren van de haargroei. Met de speciale anti roos shampoos wordt roos geëlimineerd en voorkomen. Roos ontstaat door een irritatie van de huid, hierdoor versnelt de vorming van de hoornlaag. Dit veroorzaakt schilfers op de hoofdhuid. Door de aanvoer van talg gaan de hoorncellen samenklonteren en veranderen in grote hoofdhuidschilfers. De anti roos shampoos stabiliseren de productie van talg en maken de hoofdhuid weer gezond. De Alpecine Dubbel-Effect Cafeïne shampoo biedt het beste resultaat tegen roos. 
Klantendienst
Mochten er vragen zijn over een bepaald product, je wilt advies over bijvoorbeeld het verven van je haar, of je bent benieuwd wanneer je pakketje met Alcepin producten precies wordt geleverd, dan staat onze klantenservice voor je klaar. Ook kunnen zij je meer vertellen over je favoriete producten en de werking ervan! Onze klantenservice is telefonisch te bereiken op 033 258 43 43, of via [email protected].
Lees meer
Lees minder