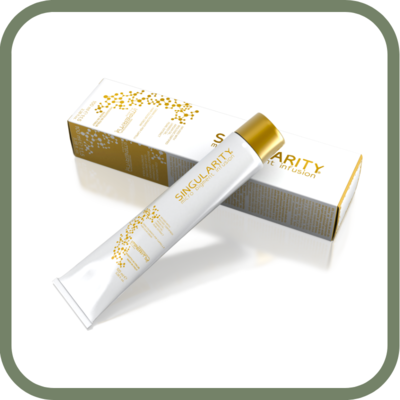 Imperity Haarverf
Van alle professionele merken die wij op onze webshop mogen verkopen, zijn we het meeste trots op ons eigen merk Imperity Professional! Wat ooit begon als een klein onbekend dapper merk, is ondertussen uitgegroeid tot een groots professioneel haarverzorgingsmerk dat zich kan meten met de grote vijf! Het merk bestaat uit verschillende productenlijnen. Een van die lijnen is Imperity Haarverf. Deze lijn bestaat uit verschillende soorten haarverf en de benodigdheden om het haar te verven.
Imperity Haarverf
Ons assortiment bestaat uit veel verschillende soorten haarverf. Van felle kleuren tot aan permanente haarverf. Het veranderen van de haarkleur wordt al sinds 1661 gedaan, er werden al diverse methoden gebruikt om het haar zwart, goudblond, groen, rood, geel en zelfs de nieuwste trend; grijs/wit te maken. De haarverven die Imperity aan biedt zijn:
Imperity Singularity Color Haarverf
Imperity Singularity Haarverf is een professionele haarverf die zorgt voor een schitterende permanente haarkleur. Deze haarverf heeft onder andere een perfecte grijsdekking tot wel 100%! Bovendien laten de actieve stoffen het haar herleven, waardoor het haar gezond, stevig en bovendien glanzend wordt!
De bijzonder samenstelling van deze haarverf zorgen voor een langdurige levendige intense haarkleur. Imperity Singularity Color is rijk aan Groene Thee Extracten, Tarwe en Amandel Eiwitten en Vitamine B5. Groene Thee Extracten staan er om bekend een reinigende en ontsmettende werking te hebben, bovendien maken ze het haar heerlijk zacht. De uitgebalanceerde formule van deze haarverf zorgen voor een uniek product, die de kleur tot diep in de haarschacht laat doordringen, het haar optimaal kleurt, hydrateert en een langdurige schitterende kleur meegeeft. Op de Imperity Singularity Kleurenkaart is erg eenvoudig af te lezen welk resultaat er behaald zal worden met een bepaalde kleur haar.
Imperity Impevita Haarverf Ammoniak Vrij
Op zoek naar een haarverf die minder schadelijke stoffen bevat? Dan is de Imperity Impevita Haarverf Ammoniak Vrij precies dat wat je zoekt. Deze haarverf is vrij van ammoniak, ppd en resorcinol. De zachte haarkleurcrème garandeert tot 100% grijsdekking. De unieke samenstelling van vier verschillende bio-oliën, namelijk olijfolie, arganolie, zonnebloemolie en druivenpitolie, bieden het haar een natuurlijke verzorging, kleur en bescherming. 
Imperity I Am Color
Imperity I Am Color is een semi permanente haarkleuring die verkrijgbaar is in 11 verschillende kleuren. Daarnaast is het ook mogelijk om de kleuren eventueel te mengen om zo nog 5 extra kleuren te creëren. Imperity I Am Color werkt het effectiefst zodra het haar is gebleekt. De felle haarkleur is te gebruiken op delen van het haar, maar is daarnaast ook te gebruiken over het gehele kapsel.

De manier waarop de kleur in het haar zal uitvallen heeft te maken met de huidige kleur van het haar. Hoe lichter het haar, hoe feller de kleur van Imperity I Am Color zal uitvallen. Op de Imperity I Am Kleurkaart is erg eenvoudig af te lezen welk resultaat er behaald zal worden met een bepaalde kleur haar.
Snelle levering en klantenservice
Alle orders worden verstuurd vanuit ons logistiek magazijn in het midden van het land. Honderden pakketten verlaten dagelijks ons magazijn op weg naar een tevreden klant. Mochten er vragen zijn over een bepaald product, wil je advies over bijvoorbeeld het verven van je haar of ben je benieuwd wanneer je pakketje precies wordt geleverd, dan staat onze klantenservice voor je klaar. Ook kunnen zij je meer vertellen over je favoriete producten en de werking ervan! Onze klantenservice is telefonisch te bereiken op +32 (0)3 304 82 77, of via [email protected].
Lees meer
Lees minder