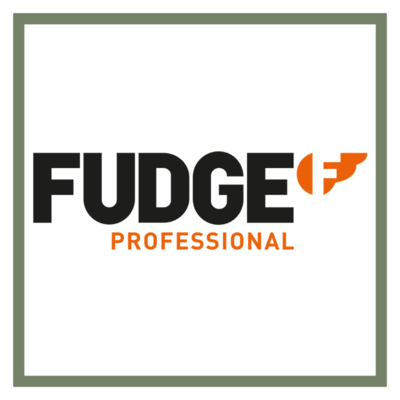 Fudge
In de jaren negentig stapte de oprichter van Fudge in een stukje kauwgom op de grond in Australië. Dankzij dit iets wat vervelende plakkerige incident, kwam hij vervolgens met het idee om een styling product te ontwikkelen voor verschillende hairstylen dat sterk was maar toch flexibel. Het product wat hierdoor is onstaan is de Fudge Hairshaper.  Later is de Fudge Hairshaper uitgegroeid tot het meest bekende, populaire en beste stylingsproduct van Fudge Professional! Het assortiment van Fudge professional is ondertussen uitgegroeid, er zijn producten voor de haarvezels en de haarwortel, gekleurd haar, normaal haar, pluizig haar, dik of dun haar, haar dat extra verzorging nodig heeft of haar dat gestyled moet worden. Fudge Professional heeft het. 

Het Fudge Professional Assortiment
Ondertussen is Fudge Professional één van de grootste en bekendste merken wanneer het aankomt op het gebied van styling en verzorging. Het assortiment bestaat uit verschillende producten die variëren van een conditioner tot een hairspray. Fudge staat vooral bekend om de unieke vorm het het strakke ontwerp van hun verpakkingen. De welbekende en opvallende oranje kleur is overal terug te vinden. Niet alleen zijn de verpakkingen bijzonder, de producten en hun geuren ook.
De herkenbare frisse geuren zijn bij zowel de verzorgingsproducten als ook de stylingsproducten uniek en eigentijds. Hierdoor krijgen de producten van Fudge Professional net dat kleine beetje meer karakter mee! Laten we een kleine opsomming maken van enkele bekende en niet te missen Fudge Producten. De Fudge Hairshaper, het bekendste stylingsproduct op de markt! De Fudge Clean Blonde Violet Toning Shampoo de enige shampoo die er toe doet voor geblondeerd haar. Of wat dacht je van de Fudge Unleaded Skyscraper, een hairspray die niet alleen zorgt voor een perfecte styling maar tevens een heerlijk ongekende geur van appel en kokosnoot!
De Fudge Hair Shaper

Het meest bekende en geliefde producte van Fudge; De Hairshaper De hairshaper van Fudge is zelfs één van de best verkochte stylingsproducten van de wereld. De naam van Fudge Hair Shaper zegt het al, het is een Hair Shaper en geen haargel. Met een Hair Shaper kun je het haar stylen zonder dat het hard wordt. Het resultaat is een kapsel met een mat effect: je haar blijft fantastisch in model.

De Fudge Hair Shaper ruikt een beetje naar vanille/karamel. Fudge Hair Shaper is een crème die het haar volume en vorm geeft, goed verstevigt (strong hold) en de conditie van het haar verbeterd. Het is met name geschikt voor kort tot halflang haar.
De fixatie geeft het haar vorm en volume
Mengeling van natuurlijke soorten was
Heeft een heerlijke Karamelgeur
Plakt Niet
Sterke Hold
Fudge Clean Blonde Violet Toning Shampoo
Fudge Clean Blonde Violet Toning Shampoo elimineert ongewenste koperkleurige en gele tonen in het blonde haar. Deze shampoo bevat het Hydrating Hair Drink Complex (HHDC), dit complex zorgt ervoor dat het haar levendig en super gezond wordt. Fudge Clean Blonde Violet Toning Shampoo geeft het blonde haar een schitterende glans. 

Fudge Clean Blonde Violet Toning Shampoo is speciaal ontwikkeld voor blond haar en haar met blonde tinten. Deze shampoo voorkomt een gele kleur in het haar en werkt extreem verzorgend. Het haar zal glad en zacht aanvoelen en komt gemakkelijker in model.
Voorkomt koperkleurige en gele tonen
Hydrating Hair Drink Complex
Schitterende glans
Maakt het haar glad en zacht
Met de producten van Fudge ontwikkelt iedereen een individuele look. Bij Fudge is men er dan ook van overtuigd dat als iedereen er hetzelfde uit zou zien, we er moe van zou worden als we naar elkaar kijken. Individualiteit en originaliteit zijn dan ook erg belangrijk bij de producten van Fudge.
"Wees trouw aan jezelf, beslis wat je zelf wil. Het creëren van je eigen persoonlijkheid en karakter geeft kracht. " Aldus de creative director van Fudge, John Vial. Fudge blijft zich inzetten op het gebied van creativiteit, zo sponsorde Fudge the Brit Awards en heeft Fudge samengewerkt met bekende fotografen en modeontwerpers.
Klantendienst
Op Kapperssolden.be bieden wij een groot gamma professionele haarproducten aan, tegen de beste promoties! Voor vragen over producten of leveringen, contacteer gerust onze klantendienst. Deze is te bereiken op +32 (0)3 304 82 77 of via [email protected].
Lees meer
Lees minder