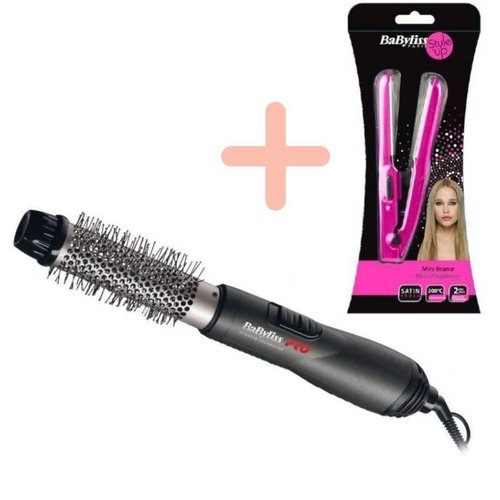 Titanium Tourmaline 32mm met gratis Mini Stijltang H100e
Bestel nu jou Babyliss Pro Titanium Tourmaline en krijg daar een Babyliss Mini Stijltang H100e ter waarde van €20,99 gratis bij!
Babyliss Pro Styling
Babyliss Pro Styling producten zijn speciaal geschikt voor gebruik in combinatie met de Babyliss Pro Miracurl. Deze kit bestaat uit 5 verschillende producten speciaal voor krullen. De stylingsproducten van Babyliss Pro zorgen voor de meest optimale krul, in combinatie met de Miracurl krultang. Vanaf 1995 is het merk Babyliss Pro Europa ook bekend in Amerika na het fuseren met een Amerikaans bedrijf. Hieruit is een groot internationaal bedrijf ontstaan. Jaarlijks worden er wereldwijd 30 miljoen elektrische apparaten en 500 miljoen haaraccessoires verkocht. Dit maakt het merk tot een wereldwijde marktleider in haar verzorgende apparaten.
De Babyliss Pro styling kit
De stylingkit bestaat uit:
Babyliss Pro Curl Shine Spray 142ml
Babyliss Pro Curl Curl Prep 237ml
Babyliss Pro Curl Curl Foundation 177ml
Babyliss Pro Curl Defining Spray 281ml
Babyliss Pro Curl Hairspray 340ml
De Curl Prep bereidt het haar voor op de warmte van de Miracurl krultang. Het is zeer belangrijk om het haar zo goed mogelijk te beschermen. Professionals raden daarom aan om het haar extra te beschermen met een product voor het stylen met een hittetool. Ook heeft de Curl Foundation een beschermende werking. Daarnaast zorgt dit product ervoor dat er een goede basis wordt gelegd voor de perfecte krul. De Curl Defining spray haalt het beste uit de krullen en zorgt voor een geweldig uiterlijk. De Shine spray geeft het haar een fantastische glans. Tenslotte zorgt de Curl Hairspray voor de perfecte look gedurende de hele dag.
Gebruiksaanwijzing:
Bereid de krullen allereerst voor met Curl Prep.
Breng vervolgens Curl Foundation aan als basis.
Gebruik vervolgens Curl Defining Spray, wat zorgt voor perfecte bewegingsvrijheid.
Om de krullen te laten glanzen dient u de Shine Spray op het haar te bevestigen.
Ten slotte kunt u Curl Hairspray aanbrengen om het haar langdurig in model te houden.
Snelle levering en klantenservice
Alle orders worden verstuurd vanuit ons logistiek magazijn in het midden van het land. Honderden pakketten verlaten dagelijks ons magazijn op weg naar een tevreden klant. Mochten er vragen zijn over een bepaald product, wil je advies over bijvoorbeeld het verven van je haar of ben je benieuwd wanneer je pakketje precies wordt geleverd, dan staat onze klantenservice voor je klaar. Ook kunnen zij je meer vertellen over je favoriete producten en de werking ervan! Onze klantenservice is telefonisch te bereiken op 033 258 43 43, of via [email protected].
Lees meer
Lees minder