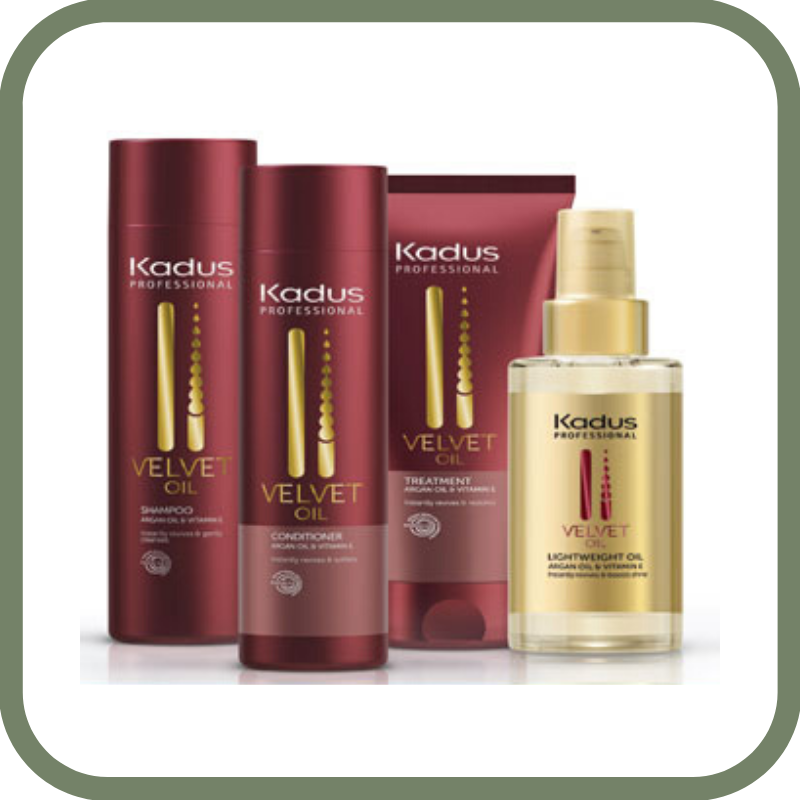 Kadus Velvet Oil
De verzorging van het haar is zeer belangrijk. Er zijn veel verschillende producten om het haar mee te verzorgen. Het is soms lastig om een goede keuze te maken wat betreft welk product het beste bij een bepaald haartype past. Kadus heeft verschillende productenlijnen op de markt gebracht die elk geschikt zijn voor een haartype. Het merk Kadus is ontstaan in het jaar 1919. Een Duitse kapper genaamd Ludwig Kegel bracht een product op de markt met de naam Kadus. Hieruit is het merk ontstaan en verder doorgegroeid tot het merk dat het nu is. Het merk staat bekend om zijn kwaliteit voor een betaalbare prijs. Sinds 1974 werkt Kadus nauw samen met het merk Wella. De Kadus Velvet Oil lijn biedt extreme verzorging en geeft het haar een prachtige glans door middel van de toegevoegde argan olie. 
Assortiment Kadus Velvet Oil
De Kadus Velvet Oil lijn bestaat uit de volgende producten:
De shampoo en conditioner bieden het haar extra veel verzorging. Ze voeden het haar intens en geven daarnaast een prachtige glans. De shampoo en conditioner blazen nieuw leven in het haar waardoor het er extra verzorgd uitziet. De producten zijn verrijkt met Argan Olie en vitamine E. Naast de conditioner wordt er aangeraden door professionals om minimaal 1 keer per week een treatment te gebruiken. Deze treatment is een extra verzorging voor het haar.
De Velvet Oil is een heerlijk product dat ideaal te gebruiken is om het haar te verzorgen. De olie beschermt, herstelt en herstructureert het haar. Daarnaast heeft het een zeer voedende werking en geeft het het haar een geweldige glans. De olie werkt ook perfect na het kleuren van het haar. Het haar kan wat droog aanvoelen na een verfbeurt en de olie hydrateert het haar en zorgt voor een prachtige glans waardoor de haarkleur extra goed naar boven komt.
Klantendienst
Op Kapperssolden.be bieden wij een groot gamma professionele haarproducten aan, tegen de beste promoties! Alle orders worden verstuurd vanuit ons logistiek magazijn in het midden van het land. Honderden pakketten verlaten dagelijks ons magazijn op weg naar een tevreden klant. Voor vragen over producten of leveringen, contacteer gerust onze klantendienst. Wij zijn te bereiken op 03 304 82 77 of via [email protected]. Wij zijn ook te vinden via Facebook of Instagram.
Lees meer
Lees minder