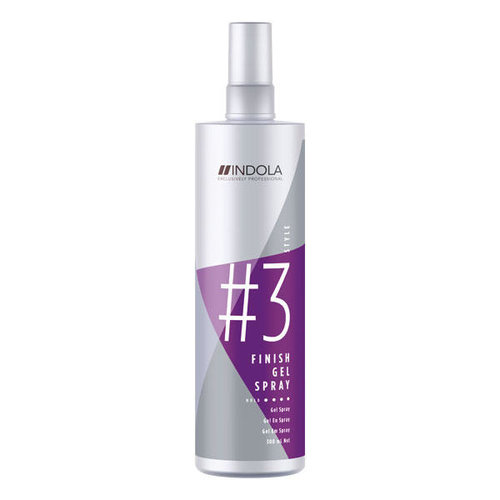 Style Finish Gel Spray 300ml
Indola Style Finish Gel Spray heeft een watervrije formule en is sneldrogend.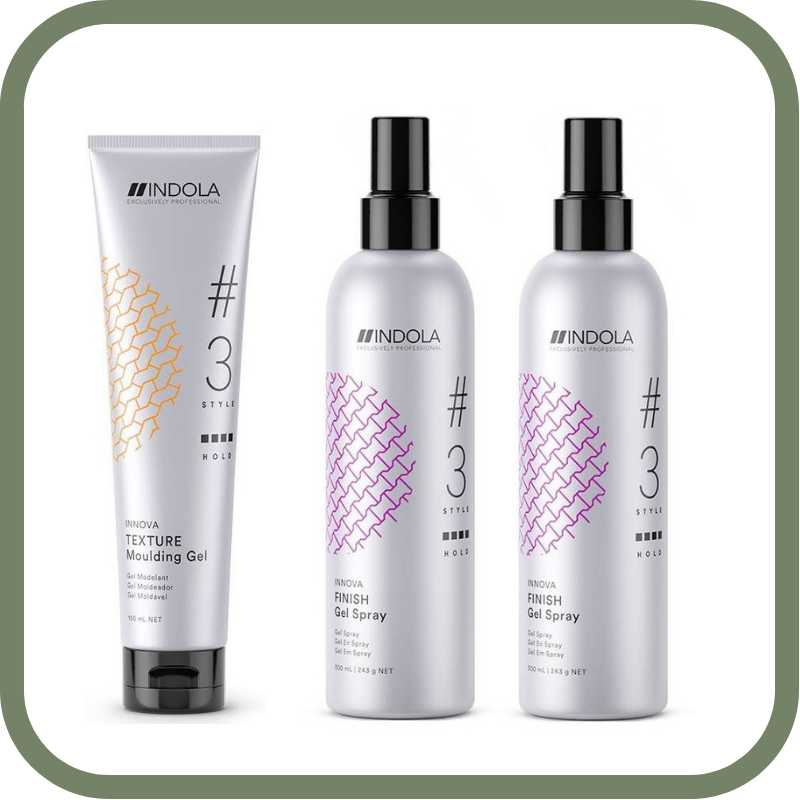 Indola Gel
Indola, een professioneel kappersmerk, staat vol in het teken van inspiratie en innovatie. Het merk is enorm digitaal ingesteld en deelt graag tips over het gebruik van hun producten. In 2011 heeft Indola haar totale gamma van producten vernieuwd waarbij speciale aandacht was voor de verpakking, maar ook de samenstelling en eigenschappen van de producten. De toon van het merk was gezet en het is een nog belangrijkere speler op de markt geworden.
Indola Gel
Haargel wordt gemaakt op basis van water of een combinatie van water en alcohol. Dit haarstylingsproduct in gelvorm wordt gebruikt om kapsel in model te brengen zodat deze de hele dag perfect zit. Een van de belangrijkste stoffen waarmee haargel wordt gemaakt zijn filmvormende polymeren. Deze polymeren zijn zonder dat zij blootgesteld zijn aan de lucht in vloeibare vorm maar na toepassing in het haar worden zij hard doordat het water in het product verdampt en creëren zij ieder gewenste haar look! De Indola Gel lijn heeft voor iedere haartype en haarstijl wel een Gel die bruikbaar is. De lijn bevat 2 verschillende gel:
Indola Innova Finish Gel Spray
Indola Innova Finish Gel Spray heeft een watervrije formule en is sneldrogend. Met deze Indola Innova Finish Gel Spray is het gemakkelijk om het haar te stylen of te finishen. Indola Gel Spray is de ideale finish voor elk kapsel en laat geen residu achter in het haar!

Indola Innova Finish Gel Spray verstevigd en fixeert het haar. Deze fantastische gel heeft een heerlijke geur en is zeer zuinig in gebruik. Dankzij de fijne vernevelaar wordt de gel spray over het hele haar verdeeld.

Indola Gel Spray is de ideale gel spray voor elk haartype. Deze gel spray plakt niet, is eenvoudig te verdelen en is handig in gebruik. Bovendien is de Indola Gel spray erg duurzaam. Indola Gel Spray is een gel en een spray in één!
Indola Innova Moulding Gel
Indola Moulding Gel is een niet plakkende, ultra strong gel. De gel is flexibel en kneedbaar voordat het droogt. Geeft een natuurlijke glans en is makkelijk uitwasbaar. De gel heeft een zeer sterke hold. Het haar blijft gedurende de hele dag restylable.
Indola Moulding Gel bevat een Uv-Filter waardoor het haar beschermt wordt tegen invloeden van buitenaf. De gel heeft een aangename geur en is zeer zuinig in gebruik.
Snelle levering en klantenservice
Alle orders worden verstuurd vanuit ons logistiek magazijn in het midden van het land. Honderden pakketten verlaten dagelijks ons magazijn op weg naar een tevreden klant. Mochten er vragen zijn over een bepaald product, wil je advies over bijvoorbeeld het verven van je haar of ben je benieuwd wanneer je pakketje precies wordt geleverd, dan staat onze klantenservice voor je klaar. Ook kunnen zij je meer vertellen over je favoriete producten en de werking ervan! Onze klantenservice is telefonisch te bereiken op +32 (0)3 304 82 77, of via [email protected].
Lees meer
Lees minder