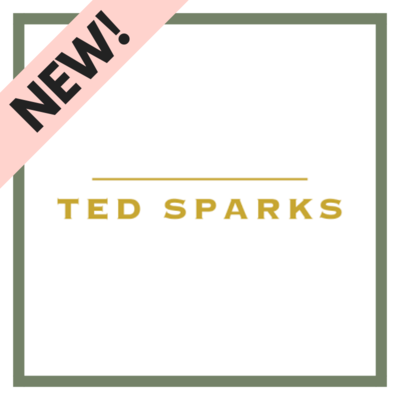 Ted Sparks
Ted Sparks heeft over de hele wereld gereisd op zoek naar verschillende culturen en inspiraties. Elke cultuur heeft zijn eigen geur en stijl, er is daarom nog zoveel te ontdekken. Geïnspireerd door de verschillende en bruisende culturen die hij is tegengekomen tijdens zijn reis, heeft Ted Sparks de meest uiteenlopende geuren ontwikkeld. Deze uiteenlopende geuren zorgen voor de juiste sfeer in huis, een heerlijk relaxed gevoel, of bijvoorbeeld een verkwikkend luchtje. Ted Sparks zoekt met alle precisie de juiste ingrediënten voor zijn kaarsen uit, hierdoor ontstaat het beste resultaat in geur, die keer op keer weer zal verrassen, prikkelen, ontspannen of inspireren.
Ted Sparks: De Geuren
White Tea & Chamoile: De geur van een mooi vers boeket kamillebloemen gecombineerd met een vleugje Aloe Vera met het aroma van witte thee.
Orange & Cedarwood: De heerlijke geur van warm cederhout in combinatie met prikkelende sinaasappel. Deze geuren worden in evenwicht gebracht door vanille en jasmijnbloem. 
Bamboo & Peony: Deze luxe blend van bamboe en poederige pioenroos, wordt compleet gemaakt met een accent van groene thee en exotische lelie.
Fig & Honey (Metallic Gold): Een zoete melange van Marokkaanse vijg en zoete honing, zorgt voor een rijke geurcombinatie.
Cedarwood & African Flowers (Metallic Rose Gold): Deze verleidelijke fusie van cederhout, samengevoegd met een zacht aromatisch boeket van Afrikaanse bloemen geven een unieke geur.
Amber & Pepper (Metallic Silver): Amber voegt zoete, houtachtige noten toe terwijl peper een verrassende pittige kick toevoegt aan deze aromatische geur.
Bergamot & Sandalwood: De warme geur van sandelhout worden versterkt door zachte tonen van citrus. Jasmijn en een toon vanille balanceren deze geur.
Naast bovenstaande heerlijke geuren zijn de speciale Spring, Autumn en Winter collecties tevens te vinden op Kapperssolden bestaande uit geurkaarsen, diffusers en, in het geval van de Spring Collectie, roomsprays.
Ted Sparks: Het Assortiment
Het assortiment van Ted Sparks bestaat niet alleen uit heerlijke ruikende geurkaarsen. Ook kan je bij Ted Sparks genieten van de heerlijke unieke geuren die wordt vrij gegeven door de diffusers. Vul de woon of slaapkamer met schitterende geuren die de zintuigen zullen prikken, ontspannen of juist stimuleren. Kan je geen genoeg krijgen van de geuren? Dan heeft Ted Sparks ook een handzeep of douchegel. Op deze manieren wordt ook het wassen van de handen een unieke beleving!
En wat dacht je dan van een omgevingsspray met daarin je favoriete Ted Sparks geur? Ook daarin heeft Ted Sparks voorzien!
Klantendienst
Op Kapperssolden.be bieden wij een groot gamma professionele haarproducten aan, tegen de beste promoties! Alle orders worden verstuurd vanuit ons logistiek magazijn in het midden van het land. Honderden pakketten verlaten dagelijks ons magazijn op weg naar een tevreden klant. Voor vragen over producten of leveringen, contacteer gerust onze klantendienst. Wij zijn te bereiken op 03 304 82 77 of via [email protected] Wij zijn ook te vinden via Facebook of Instagram.
Lees meer
Lees minder