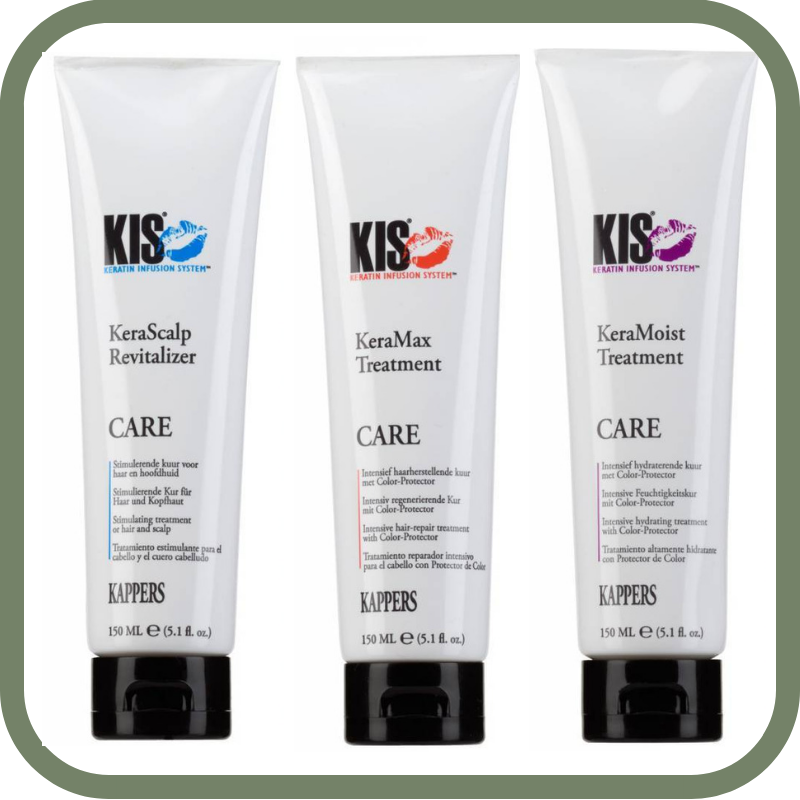 KIS Haarmasker
KIS Kappers is het merk achter de ontwikkeling van het 'Keratin Infusion System', beter bekend als de KIS-formule. De formule herstelt de haren op revolutionaire wijze van binnenuit. Het uitgangspunt van KIS is het herstellen van het haar, met minimale verzwaring door een cosmetisch laagje. Dit resulteert in prachtig glanzend en volumineus vol haar.
In 1995 werd in Nederland het merk Kappers geïntroduceerd. Doelstelling van deze haarverzorgingslijn was om kapsalons hoogwaardige kwaliteitsproducten te bieden tegen een aantrekkelijke prijs. De producten moesten bovendien aansluiten bij de specifieke behoeftes en werkwijzen van de professionele kapsalon. Inmiddels heeft het merk zijn toegevoegde waarde ruimschoots bewezen. De afgelopen jaren is het aantal enthousiaste gebruikers dan ook spectaculair toegenomen. 
KIS Haarmasker Assortiment
KIS Verzorging bestaat onder andere uit heerlijke haarmaskers. De volgende maskers zijn verkrijgbaar op Kapperssolden.be:
KIS Kera Scalp Revitalizer: stimulerende, gewichtsloze en hydraterende kuur. Deze geweldige kuur laat de hoofdhuid tintelen en zorgt ervoor dat de gevoelige hoofdhuid weer prettig aanvoelt.
KIS Keramax Treatment: herstellende en verstevigende treatment.
KIS Keramoist Treatment: herstelt de vochtbalans, helpt de elasticiteit te verbeteren en geeft een intensieve voeding aan het haar.
KIS Keratreat: mildreinigende treatment geschikt voor elk haartype.
Voor een optimaal resultaat, probeer ook de andere KIS verzorgingsproducten zoals de Shampoo of Conditioner!
KIS Haarmasker kopen
De KIS haarmasker collectie is te vinden op Kapperssolden.be. Deze producten zijn snel, veilig en eenvoudig online te bestellen. Natuurlijk tegen de scherpste prijzen. Houdt onze webshop in de gaten voor de laatste aanbiedingen, acties en kortingscodes, zodat jij jouw favoriete KIS product extra voordelig kunt bestellen. 
Klantendienst
Op Kapperssolden.be bieden wij een groot gamma professionele haarproducten aan, tegen de beste promoties! Alle orders worden verstuurd vanuit ons logistiek magazijn in het midden van het land. Honderden pakketten verlaten dagelijks ons magazijn op weg naar een tevreden klant. Voor vragen over producten of leveringen, contacteer gerust onze klantendienst. Wij zijn te bereiken op 03 304 82 77 of via [email protected] Wij zijn ook te vinden via Facebook of Instagram.
Lees meer
Lees minder