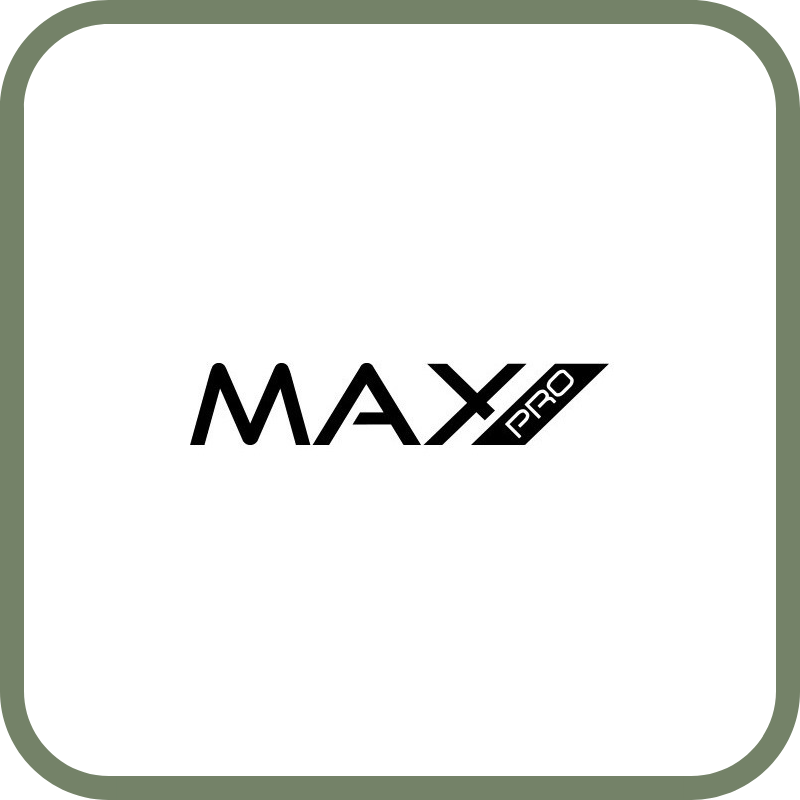 Max Pro Totaal
Max Pro, opgericht in 2013 te Amsterdam, is een snelgroeiende internationale organisatie op het gebied van haar & styling. Het is een hoogwaardig kwalitatief merk dat professionele haar styling tools biedt voor kapperszaken, haarstylisten en consument.
Het merk laat zich inspireren door behoeften van de gebruik(st)ers. Door het signaleren van de consumentenbehoeften zijn de producten continue in ontwikkeling en voorzien van de nieuwste technologieën.
Max Pro Assortiment
Dankzij Max Pro, met een assortiment bestaande uit stijltangen, krultangen, föhns en accessoires, kan je van ieder haartype steil, golvend of krullend haar creëren. Het merk staat bekend om haar kwalitatieve en innovatieve producten welke gemakkelijk in gebruik zijn, het haar beschermen en verzorgen. Het gebruik van stylingtools wordt vergemakkelijkt met de Heat Protection Handschoen. Zo creëer je met iedere look een natuurlijke en gezonde uitstraling!
Max Pro Stijltangen
De Stijltangen van Max Pro zijn onder te verdelen in verschillende categorieën onder andere op basis van materiaal. De Evolution serie maakt gebruik van titanium platen terwijl de Gloss serie gebruik maakt van keramische platen:
Pro Evolution Stijltang

Pro Gloss Stijltang

Pro Mohi Stijltang
De Mohi lijn bestaat niet alleen uit stylingtools, maar ook stylingproducten op basis van Argan olie. De Argan Oil Treatment By Mohi en de Mohi Hair Serum Spray zijn hier voorbeelden van.
Max Pro Krultangen
De Max Pro Twist krultang is een zogenaamde 'wand', welke super gemakkelijk in gebruik is. Verkrijgbaar in verschillende groottes voor verschillende looks. Vaak verschillende looks maken? Dan is de Miracle 5 in 1 Krultang iets voor jou! Deze krultang heeft meerdere opzet stukken en kan dus gebruikt worden voor alle denkbare looks met krullen.
Max Pro Föhns
De Max Pro Xperience Fohn heeft alles wat een föhn nodig heeft. Verschillende blaas- en warmtestanden, een cool shot en een antislip zijkant zijn enkele van de handige functies van deze föhn. De negatieve ionen afkomstig van de ionische technologie maken het haar glad. De keramische technologie zorgt er daarnaast voor dat warmte egaal over de haren verspreid wordt.
Streven naar een optimale services voor haar klanten, staat bij het merk hoog in het vaandel. Dit kenmerkt zich door het aanbieden van trainingen (beurzen en/ of op locatie bij professionals) en een levenslange garantie bij aankoop van een Max Pro product. 
Klantenservice
Mochten er vragen zijn over een bepaald product, je wilt advies over bijvoorbeeld het verven van je haar, of je bent benieuwd wanneer je pakketje met stylingtools precies wordt geleverd, dan staat onze klantenservice voor je klaar. Ook kunnen zij je meer vertellen over je favoriete producten en de werking ervan! Onze klantenservice is telefonisch te bereiken op 033 258 43 43, of via [email protected].
Lees meer
Lees minder