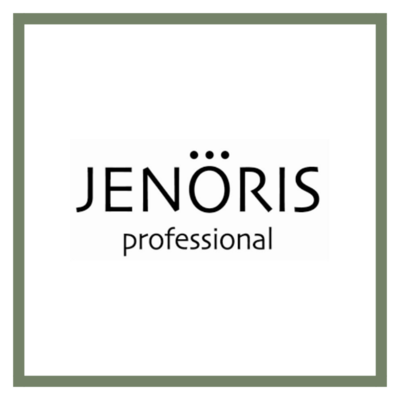 Jenoris
Jenoris is een hoogstaand haarverzorgingsmerk die begrijpt dat de haren aandacht nodig hebben. Dit merk ziet het als een uitdaging een goed verzorgd kapsel te behouden voor langere tijd. Vaak wordt er weinig aandacht gegeven aan dagelijkse haarproducten. Speciale producten voor specifieke problemen worden wel gekozen, maar de dagelijkse routine moet niet worden vergeten. Ook hier valt veel te winnen op het gebeid van verzorgd en gezond haar! Jenoris heeft een professionele haarverzorgingslijn ontwikkeld zodat iedereen dagelijks met glanzend, zacht en gezond haar door het leven kan gaan.
Jenoris Begin
Jenoris onderzoekers hebben vele uren gemaakt in het lab om met de perfecte producten te komen. De juiste balans tussen natuurlijke en samengestelde ingrediënten is voor ieder product van belang. Dit strenge proces maakt het merk van topkwaliteit met ongekende resultaten. Levendigheid, innovatie en exclusiviteit staan centraal bij Jenoris.
De actieve ingrediënten in de producten herstellen de haren en maken ze sterker. Ook voor beschadigd of chemisch behandeld haar bent u bij Jenoris aan het juiste adres. De langdurige resultaten zijn geliefd bij consument en professional.
Jenoris Assortiment
De producten van Jenoris zijn met zorg samengesteld voor verschillende haartypen. Het assortiment bestaat onder andere uit Shampoo, Haarmaskers en Treatments. Bekend is bijvoorbeeld de Jenoris Silver Shampoo.
Jenoris Keratin
De Keratin producten van Jenoris zijn ontwikkeld voor het herstellen van chemisch behandeld haar. De Keratin Shampoo, Keratin Hair Mask en Keratin Foaming Ampoules vallen onder deze lijn. Gespleten haarpunten en droog haar zijn verleden tijd met deze producten. Het haar gaat glanzen en krijgt zijn vitaliteit terug.
Jenoris Pistachio
Deze fijne lijn is speciaal voor het behandelen van gekleurd en droog haar. De lijn bestaat uit een shampoo en haarmasker. De Pistachio Shampoo beschermt gekleurd haar en verzorgt een intense hydratatie. Het Pistachio Hair Mask versterkt het haar en maakt het elastischer. Gekleurd en geblondeerd haar wordt gevoed en extra zacht met deze producten.
Nog bekender dan de shampoo en het haarmasker uit deze lijn, is The Original Oil Hair Treatment. De basis van dit product zijn pistache en bernagie olie. De olie is geschikt voor alle haartypes, maar wordt vooral gebruikt voor het verzorgen van extensions. De ideale olie voor het herstellen en beschermen van de haren!
Jenoris Hair Loss
Haaruitval is een bekend probleem bij vele mannen en vrouwen. Jenoris heeft een Hair Loss Treatment Shampoo ontwikkeld voor het tegengaan van haarverlies door haargroei te stimuleren en de haren meer volume te geven. De bijbehorende Intensive Treatment for Hair Loss verlengt daarnaast de levensduur van het haar en doet het er voller en gezonder uitzien. Dit is te danken aan het Omega 3-6-9 complex.
Klantendienst
Op Kapperssolden.be bieden wij een groot gamma professionele haarproducten aan, tegen de beste promoties! Alle orders worden verstuurd vanuit ons logistiek magazijn in het midden van het land. Honderden pakketten verlaten dagelijks ons magazijn op weg naar een tevreden klant. Voor vragen over producten of leveringen, contacteer gerust onze klantendienst. Wij zijn te bereiken op 03 304 82 77 of via [email protected]. Wij zijn ook te vinden via Facebook of Instagram.
Lees meer
Lees minder