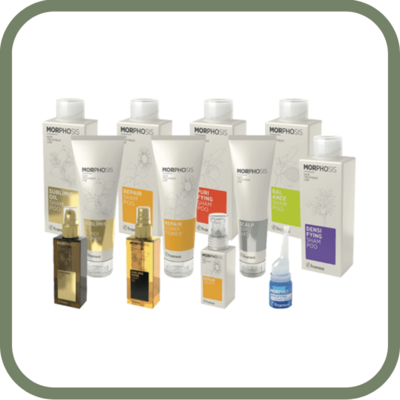 Framesi Morphosis
Framesi is een Italiaans merk dat in 1945 is gestart met de verkoop van haarproducten. Al snel werd het merk een specialist op het gebied van haarverf. Later, in de jaren 80, kwamen daar een verzorgingslijn, een stylingslijn en accessoires bij. Zo ontstond er een uiterst breed assortiment van het Italiaanse merk.
Framesi Morphosis
Morphosis is de verzorgingslijn van het Italiaanse merk. Morphosis biedt een verzorgende oplossing voor ieder haartype, bijvoorbeeld voor gekleurd, beschadigd, droog, fijn en dun, grijs of normaal haar. Ook biedt de Morphosis lijn oplossingen voor roos en/of een beschadigde hoofdhuid. De verschillende lijnen van Framesi Morphosis zijn:
Framesi Morphosis Re-Structure, Sublimis Oil & Color Protect
De Re-Structure lijn van Framesi Morphosis is speciaal ontwikkeld voor beschadigd haar. De producten werken revitaliserend, dat wil zeggen dat het haar weer levendig wordt gemaakt. Deze lijn is dus ideaal om beschadigd haar een krachtboost te geven.
Morphosis Sublìmis Oil is ideaal om te gebruiken wanneer u last heeft van droog, beschadigd en vervuild haar dat vatbaar is voor pluis en daarnaast moeilijk te stylen is. Morphosis Sublìmis Oil maakt het haar zacht en handelbaar door het haar te hydrateren en te beschermen tegen schadelijke invloeden van buitenaf. Het belangrijkste ingrediënt van deze lijn is Argan Olie, wat er voor zorgt dat de vochtbalans van het haar herstelt en beschermt wordt.
Morphosis Color Protect is speciaal ontwikkeld voor gekleurd haar dat snel vervaagt door zonlicht, hitte van thermische styling tools en uitdroging. Deze verzorgingslijn beschermt het haar tegen kleurvervaging, beschadiging door hitte en omgevingsinvloeden. Één van de belangrijkste ingrediënten van Morphosis Color Protect is Corallina Officinalis. Corallina Officinalis is een hydraterend alg dat ervoor zorgt dat koraal zijn levendige kleur niet verliest in extreem zonlicht.
Framesi Morphosis Repair, Balance & Destress
Morphosis Repair is perfect te gebruiken bij droog, dof en poreus haar dat behoefte heeft aan herstel. Het belangrijkste ingrediënt van de Repair lijn is zonnebloemzaadolie die zorgt voor glans en bescherming. Morphosis Repair herstelt de haarschacht en het haarzakje om het haar weer flexibel en natuurlijk glanzend te maken.
Morphosis Balance is een lijn van Framesi die perfect te gebruiken is op een vette, gevoelige hoofdhuid met slap, futloos haar dat vatbaar is voor haarverlies. Morphosis Balance reguleert de talgproductie en ontsmet de hoofdhuid met biologisch citroen extract als belangrijkste ingrediënt.
Morphosis Destress is perfect te gebruiken wanneer u last heeft van gevoelige hoofdhuid die vatbaar is voor een zeer oncomfortabel gevoel na een chemische haarbehandeling. Morphosis Destress vermindert de huidirritatie en het onprettige gevoel door het versterken van de weerstand van de cellen. Het belangrijkste ingrediënt die zich bevindt in deze lijn is druivenpit. Druivenpit zorgt voor een ontspannen en verzachtende werking die blijvend zal zijn voor de hoofdhuid.
Framesi Morphosis Green, Purifying, Scalp Control & Volumizing
De producten van Morphosis Green zijn gemaakt van 98% natuurlijke ingrediënten en zijn speciaal ontwikkeld om het haar te beschermen, herstellen en verzorgen. Bovendien geven de producten het haar een prachtige glans.
Morphosis Purifying van Framesi is ideaal te gebruiken op een hoofdhuidtype die vatbaar is voor roos, jeuk en irritatie. Daarnaast is deze lijn perfect voor de hoofdhuid die slap en statisch haar kan veroorzaken. Het belangrijkste ingrediënt is ontsmettend sinaasappel extract. Framesi Morphosis Purifying brengt de hoofdhuid weer in balans zoals dat gewenst is. 
Morphosis Scalp Control van Framesi is speciaal ontwikkeld om een vette hoofdhuid die jeukt en vatbaar is voor onzuiverheden en roos te behandelen. De belangrijkste ingrediënten van deze lijn zijn citroen, sinaasappel en granaatappel extracten om te verfrissen. Morphosis Scalp Control scrupt de huid op milde wijze en brengt de talgklieren weer in balans.
De producten van Morphosis Volumizing zijn speciaal ontwikkeld om het haar extra volume, body en kracht te geven. Het haar krijgt een gezonde uitstraling en dun haar is verleden tijd.
Snelle levering en klantenservice
Alle orders worden verstuurd vanuit ons logistiek magazijn in het midden van het land. Honderden pakketten verlaten dagelijks ons magazijn op weg naar een tevreden klant. Mochten er vragen zijn over een bepaald product, wil je advies over bijvoorbeeld het verven van je haar of ben je benieuwd wanneer je pakketje precies wordt geleverd, dan staat onze klantenservice voor je klaar. Ook kunnen zij je meer vertellen over je favoriete producten en de werking ervan! Onze klantenservice is telefonisch te bereiken op +32 (0)3 304 82 77, of via [email protected].
Lees meer
Lees minder