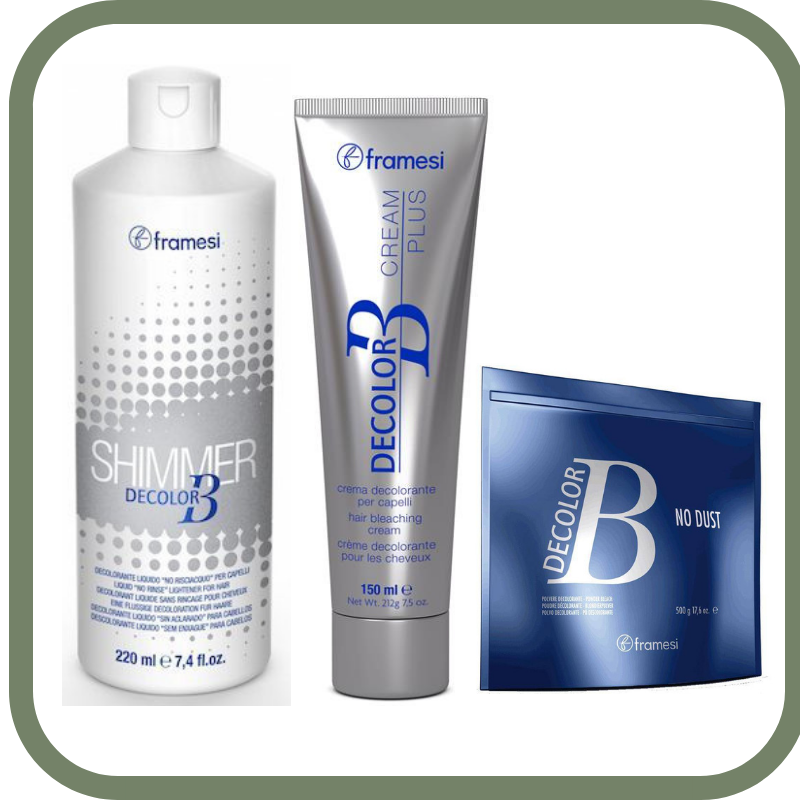 Framesi Decolor B
Framesi is een Italiaans merk dat in 1945 is gestart met de verkoop van haarproducten. Al snel werd het merk een specialist op het gebied van haarverf. Later, in de jaren 80, kwamen daar een verzorgingslijn, een stylingslijn en accessoires bij. Zo ontstond er een uiterst breed assortiment van het Italiaanse merk.
Framesi Decolor B
Framesi Decolor B is de ontkleuringslijn van Framesi. Onder deze lijn vallen een aantal producten die de ontkleuring perfect zullen laten verlopen. Framesi Decolor B zorgt voor een gelijkmatige ontkleuring, waarbij ongewenste gele tinten in het haar voorkomen worden. De producten uit de lijn zijn:
Framesi Decolor B Diamond & Cream
Framesi Decolor B Diamond is een ontkleuringspoeder voor een lichtere en blonde haarkleur. De Diamond ontkleuringspoeder bevat diamant poeder. Diamant poeder maakt het verlichtende effect intenser. Daarnaast zorgt het voor een zachte scrub op de oppervlak van het haar, wat het haar gladder en zachter maakt na het ontkleuringsproces. Framesi Decolor B Cream is een milde ontkleuringscréme voor uw haar. Deze cream is een erg veilige en effectieve voorbehandeling als u, uw haar lichter wilt verven. Framesi Decolor B Cream maakt het haar 8 tot 9 tinten lichter en verwijdert daarnaast eventuele oude haarverf. De cream is gemakkelijk aan te brengen. Dankzij de toegevoegde helende oliën beschermt Framesi Decolor B Cream het haar en de hoofdhuid gedurende de behandeling.
Framesi Decolor B No Dust & Shimmer
Framesi Decolor B No Dust is een stuifvrije ontkleuringspoeder met een gebalanceerde formule. Dankzij cellulosederivaten en plantaardige elementen wordt het haar beschermt tijdens het gehele ontkleuringsproces. Decolor B No Dust kan ontkleuren tot zeven tinten en voorkomt ongewenste gele tinten. De ontkleuringspoeder is geschikt voor ieder haartype. De werktijd bedraagt 20 tot 60 minuten. Framesi Decolor B Shimmer is het eerste innovatieve systeem dat het haar oplicht en glans geeft in slechts enkele minuten. Deze ontkleuringsbehandeling werkt effectief op natuurlijk en gekleurd haar. Framesi Decolor B Shimmer licht het haar op tot twee tinten. Met enkele strijken van de stijltang ontstaat een stralende, oplichtende tint met diepte en contrast zonder het haar daarbij te beschadigen.
Snelle levering en klantenservice
Alle orders worden verstuurd vanuit ons logistiek magazijn in het midden van het land. Honderden pakketten verlaten dagelijks ons magazijn op weg naar een tevreden klant. Mochten er vragen zijn over een bepaald product, wil je advies over bijvoorbeeld het verven van je haar of ben je benieuwd wanneer je pakketje precies wordt geleverd, dan staat onze klantenservice voor je klaar. Ook kunnen zij je meer vertellen over je favoriete producten en de werking ervan! Onze klantenservice is telefonisch te bereiken op +32 (0)3 304 82 77, of via [email protected].
Lees meer
Lees minder