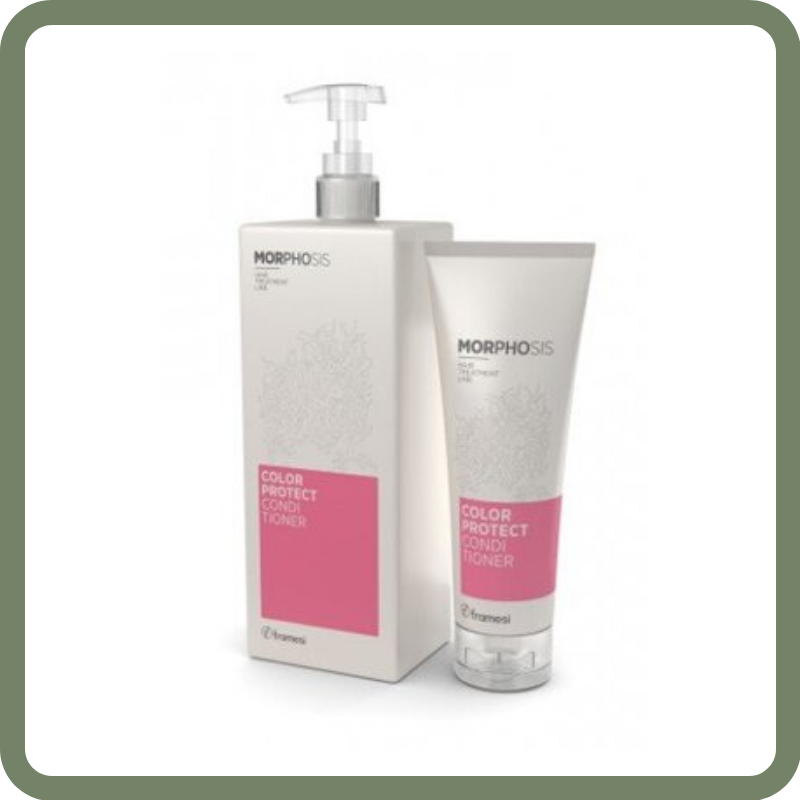 Framesi Conditioner
Framesi is een Italiaans merk dat in 1945 is gestart met de verkoop van haarproducten. Al snel werd het merk een specialist op het gebied van haarverf. Later, in de jaren 80, kwamen daar een verzorgingslijn, een stylingslijn en accessoires bij. Zo ontstond er een uiterst breed assortiment van het Italiaanse merk.
Framesi haalt haar inspiratie uit architectuur en uit stoffen en materialen van modeontwerpers. Deze inspiratie helpt het merk inspelen op de nieuwste trends op het gebied van hair-fashion.
Framesi Conditioner
Framesi biedt veel verschillende conditioners aan om elk haartype de beste verzorging te kunnen geven. Zo zijn er onder andere shampoos voor gekleurd, beschadigd, droog, vet of futloos haar, of voor mensen met haaruitval of roos. Genoeg keuze dus!
Framesi Morphosis Re-Structure & Sublimis Oil Conditioner
Framesi Morphosis Re-Structure Conditioner is een conditioner voor dof, beschadigd en futloos haar. Deze conditioner geeft het haar glans en zorgt voor een krachtboost. Framesi Morphosis Re-Structure Conditioner voedt het haar op sublieme wijze van binnenuit, waardoor het haar wordt versterkt. Overigens wordt het haar gehydrateerd, waardoor het vochtgehalte in balans wordt gehouden.
Framesi Morphosis Sublimis Oil Conditioner verzacht en hydrateert het haar. Deze conditioner werkt perfect samen met de Framesi Morphosis Sublimis Oil Shampoo. Het haar wordt beter behandelbaar na het gebruik van de Framesi Morphosis Sublimis Oil Conditioner. Deze conditioner bevat het wondermiddel; arganolie. Argan Olie verzorgt en voedt het haar. Daarnaast wordt het haar voorzien van een schitterende glans met een zijdezacht effect. De vochtbalans van het haar en de hoofdhuid wordt hersteld. Het haar gaat er zichtbaar beter uit zien na het gebruik van deze conditioner. Framesi Morphosis Sublimis Oil Conditioner is een arganolie haarproduct.
Framesi Morphosis Repair & Color Protect Conditioner
Last van beschadigd of dof haar? Dan is de Framesi Morphosis Repair Conditioner uiterst geschikt om het haar te behandelen. Deze herstellende Conditioner herstelt en verzorgt de haren daar waar dat nodig is. Binnen een afzienbare tijd heeft het haar weer de flexibiliteit en de glans terug. De Framesi Morphosis Repair Conditioner herstelt de structuur van het haar tot in de haarwortel. De verzorgende conditioner is ideaal om de haren te verzorgen na een chemische behandeling. De Repair Conditioner heeft een lichte textuur die het haar binnendringt, dit allemaal zonder het haar zwaar te maken. Deze conditioner is speciaal ontwikkeld voor normaal tot fijn haar, dat een haarkleuring heeft ondergaan. De haren worden extra gehydrateerd, daarnaast krijgen de haren volop glans, volume en een perfecte zijde zacht gevoel. De Framesi Morphosis Repair Conditioner is de ideale herstellende en verzorgende Conditioner, die elke dag te gebruiken is.
Framesi Morphosis Color Protect Conditioner is een conditioner die het haar beschermt tegen kleurvervaging. deze Conditioner is geschikt voor fijn tot normaal haar en beschermt tegen hitte. Framesi Morphosis Color Protect Conditioner creëert een prachtige glans en maakt het haar glad. De Conditioner beschermt het haar tegen hitte en tegen UV straling.
Framesi Morphosis Volume & Daily Green Conditioner
Deze volume gevende conditoner van Framesi geeft het haar extra body, volume en kracht. Dankzij de speciale hydraterende werking van deze conditioner, zal het haar weer de gezonde uitstraling van vroeger geven. Dunner wordend haar is met Framesi Morphosis Volume Conditioner verleden tijd. Tevens wordt het haar op een intensieve maar toch milde manier gehydrateerd en zal het haar heerlijk zacht aanvoelen.
De Framesi Morphosis Green Daily Conditioner is een verzachtende conditioner met een optimaal hydraterend effect. De conditioner is ontwikkeld voor fijn tot normaal haar en kan gemakkelijk dagelijks gebruikt worden. Het product valt onder de Morphosis Green lijn en bevat dus een groot aantal natuurlijke ingrediënten. Deze ingrediënten, waaronder Vitamine E en passiebloempitolie, zijn zorgvuldig uitgekozen zodat ze het kapsel niet verzwaren en voor een diepe voeding zorgen. De conditioner zorgt er daarnaast voor dat de haren een mooie gezonde glans krijgen.
Snelle levering en klantenservice
Alle orders worden verstuurd vanuit ons logistiek magazijn in het midden van het land. Honderden pakketten verlaten dagelijks ons magazijn op weg naar een tevreden klant. Mochten er vragen zijn over een bepaald product, wil je advies over bijvoorbeeld het verven van je haar of ben je benieuwd wanneer je pakketje precies wordt geleverd, dan staat onze klantenservice voor je klaar. Ook kunnen zij je meer vertellen over je favoriete producten en de werking ervan! Onze klantenservice is telefonisch te bereiken op +32 (0)3 304 82 77, of via [email protected].

Lees meer
Lees minder