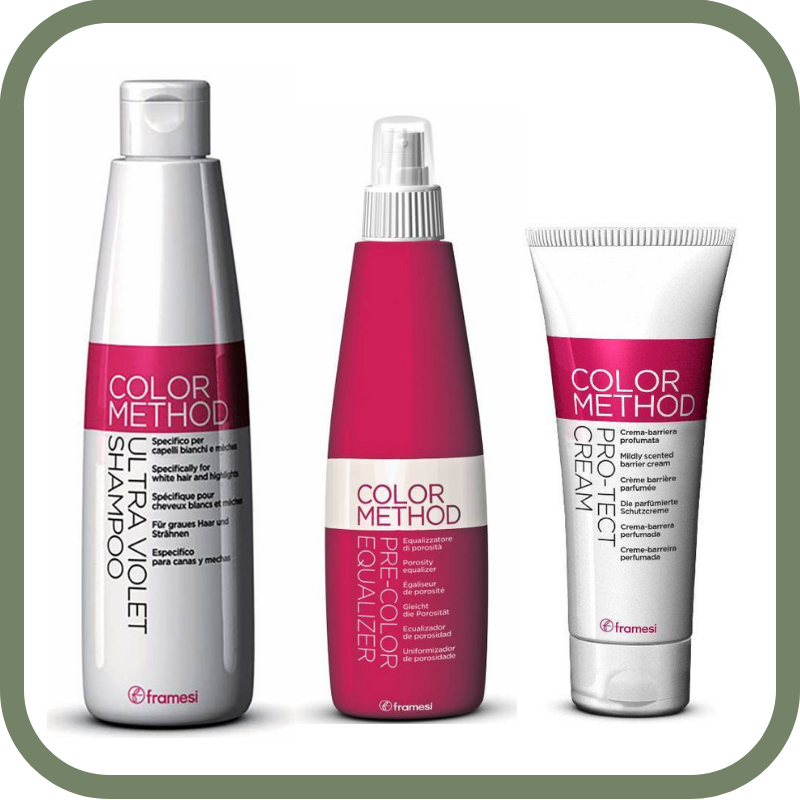 Framesi Color Method
Framesi Color Method is de lijn van Framesi die het haar voor en na een kleurbehandeling ondersteunt. Deze lijn stopt en stabiliseert de kleur. De houdbaarheid van de kleur wordt verlengd met 47%, daarnaast wordt de haarkleur tot 42% stralender. De natuurlijke PH waarde wordt hersteld. Daarnaast zorgt deze lijn voor bescherming van het haar en de hoofdhuid.
Framesi Color Method
De Framesi Color Method lijn heeft verschillende producten zoals een Shampoo, Cream en Equalizer. Alle producten zorgen ervoor dat gekleurd haar extra wordt verzorgt en de kleur wordt verleng met maar liefst 47%. De producten in de Color Method lijn zijn:
Framesi Color Method Shampoo & Mask
Framesi Color Method Shampoo Go is een herstructurerende spray om schubben te sluiten. Framesi Color Method Shampoo Go werkt verzorgend en zorgt voor een langere houdbaarheid van gekleurd haar. Framesi Color Method Ultra Violet Shampoo, speciaal ontwikkeld voor wit en geblondeerd haar. Deze shampoo laat de gele gloed uit het haar verdwijnen. Framesi Color Method Mask is een haarmasker die je haar een beschermende laag geeft na het haar geverft te hebben. Framesi Color Method Mask helpt kleurvervagingen te voorkomen en zorgt er daarnaast voor dat het haar weer in balans komt dankzij de toegevoegde zuren in het masker.



Framesi Color Method Supersmak, Relief & Protect Cream
Framesi Color Method Supersmak is een ultiem reinigende lotion die kleurrestanten verwijdert. Framesi Color Method Supersmak voorkomt enige vorm van hoofdhuidirritatie dankzij de toegepaste formule. Framesi Color Method Relief is een kalmerende spray voor de hoofdhuid met een effectieve en langdurige werking. Deze spray vermindert irritatie van de gevoelige hoofdhuid voor, tijdens en na een kleurbehandeling. Framesi Color Method Pro-Tect Cream is een barrièrecrème die een beschermende laag op de huid vormt zodat de kleur niet in de huid kan dringen. Framesi Color Method Pro-Tect Cream heeft een vochtinbrengende formule waardoor de huid niet uitgedroogd zal raken.



Snelle levering en klantenservice
Alle orders worden verstuurd vanuit ons logistiek magazijn in het midden van het land. Honderden pakketten verlaten dagelijks ons magazijn op weg naar een tevreden klant. Mochten er vragen zijn over een bepaald product, wil je advies over bijvoorbeeld het verven van je haar of ben je benieuwd wanneer je pakketje precies wordt geleverd, dan staat onze klantenservice voor je klaar. Ook kunnen zij je meer vertellen over je favoriete producten en de werking ervan! Onze klantenservice is telefonisch te bereiken op +32 (0)3 304 82 77, of via [email protected].
Lees meer
Lees minder