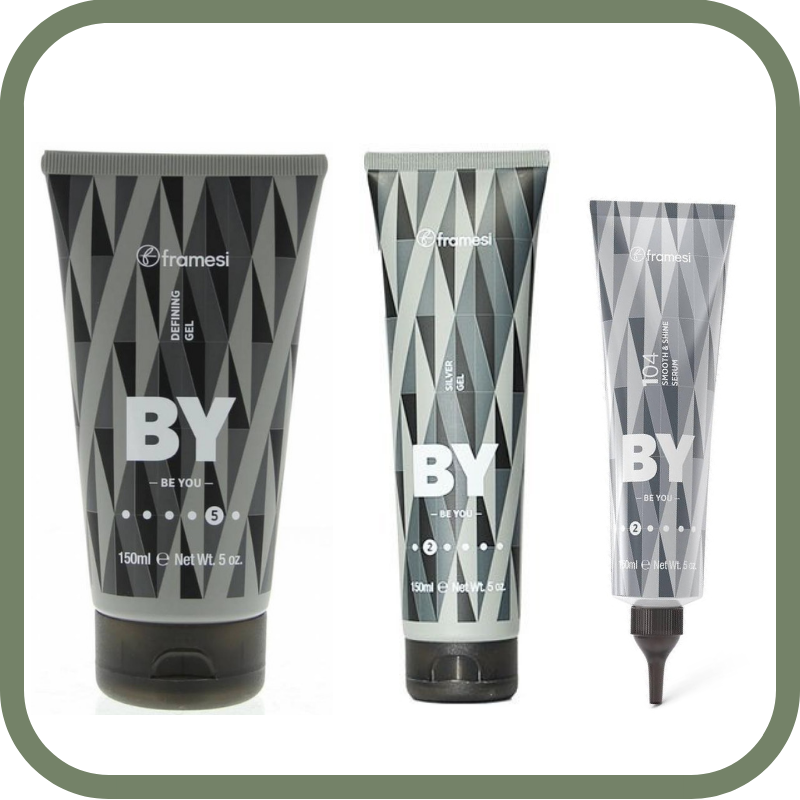 Framesi By Be You
Framesi By Be You is de complete styling en finishing lijn. Met de producten van By Be You kan iedereen zijn of haar persoonlijke style creëren. Gel, wax, paste, een lichte of een sterke hold, werkelijk alles is mogelijk.

Framesi By Be You biedt onder andere producten aan die het haar beschermen tegen de hitte van stylingstools en andere schadelijke invloeden van buitenaf. Ook zijn er producten die pluis weten te voorkomen. Niet alleen voor de vrouw, maar juist ook voor de man biedt Framesi By Be You oplossingen om de styling van het haar sneller en efficiënter te laten verlopen met een prachtig resultaat.
Framesi By Be You is de vervangende lijn van Framesi By White en Framesi By Extreme. Framesi zorgt in slechts 3 stappen voor perfectie op het gebied van styling. De stappen die gevolgd moeten worden zijn: Create, Shape en Finish. Toevallig heeft Framesi al deze stappen in haar By Be You producten verwerkt en is het dus mogelijk om de perfecte look overal, waar u maar wilt te creëren.
Geschiedenis
Framesi is een Italiaans merk dat in 1945 is gestart met de verkoop van enkele haarproducten. Al snel werd het merk een specialist op het gebied van haarverf. Later, in de jaren '80 kwamen daar een verzorgingslijn, een stylingslijn en accessoires bij, zo ontstond er een volledig assortiment van het Italiaanse merk.
Framesi haalt inspiratie uit architectuur en uit stoffen en materialen van modeontwerpers. Op deze manier kan het merk inspelen op de nieuwste trends op het gebied van hairfashion.
Snelle levering en klantenservice

Alle orders worden verstuurd vanuit ons logistiek magazijn in het midden van het land. Honderden pakketten verlaten dagelijks ons magazijn op weg naar een tevreden klant. Mochten er vragen zijn over een bepaald product, wil je advies over bijvoorbeeld het verven van je haar of ben je benieuwd wanneer je pakketje precies wordt geleverd, dan staat onze klantenservice voor je klaar. Ook kunnen zij je meer vertellen over je favoriete producten en de werking ervan! Onze klantenservice is telefonisch te bereiken op +32 (0)3 304 82 77, of via
[email protected]
.
Lees meer
Lees minder